Premier League: Yaya Toure would like to end his career at Manchester City
Manchester City midfielder Yaya Toure says he would be happy to see out the rest of his career at the Etihad Stadium.
Last Updated: 24/02/13 1:07pm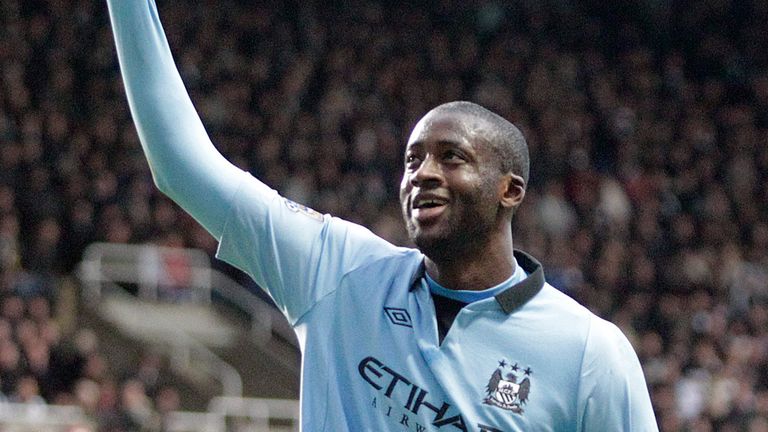 The Ivory Coast international has established himself as an integral part of Roberto Mancini's side since arriving from Barcelona in 2010, helping City to the Premier League title last year.
Toure, 29, currently contracted at the club until 2015, has no desire to leave and hopes to end his playing days there.
"I want to give all to this club for a long time. It's quite strange because all my career I've been with clubs for two or three years," he told The Sun.
"Normally I change clubs after one or two years but it's different here. I want to stay longer.
"Sometimes you're not happy with something or you don't feel comfortable in the city and you need change, but not here.
"Of course I'd like to end my career here. For three years it has been enjoyable to be with guys who love you, guys who care about you."
Tough
City have slipped 15 points behind rivals Manchester United in the Premier League title race ahead of Sunday's visit of Chelsea and Toure admits it was tough not being able to help out the team while representing his country at the Africa Cup of Nations in January.
He said: "When your friends need you and you are away it's always harder.
"You want to be with them. It's always difficult. I'm African and the tournament makes us leave for one month.
"Your club have to play hard games. Sometimes I feel sad.
"When I was away we didn't get the right results and January is always hard because we have to play every three days.
"But it's part of football. We can do nothing about it."
Meanwhile, Chelsea midfielder John Obi Mikel is hoping to inflict more hurt on Manchester City's Yaya Toure when they meet on Sunday after helping Nigeria beat Ivory Coast 2-1 in the quarter-finals of the Africa Cup of Nations.
Mikel told the Sunday Mirror: "Toure is such a brilliant player but you don't let him run past you, just stay in front of him. Don't commit too much - once you commit, he goes past you and he's gone.
"It will be a difficult game but we are going there to win. If we do, it will be a real statement that we want second place."