Marouane Fellaini is happy at Everton but wants to be playing in the Champions League
Marouane Fellaini says he is happy at Everton but admits he wants to be playing in the UEFA Champions League.
Last Updated: 11/05/13 12:09pm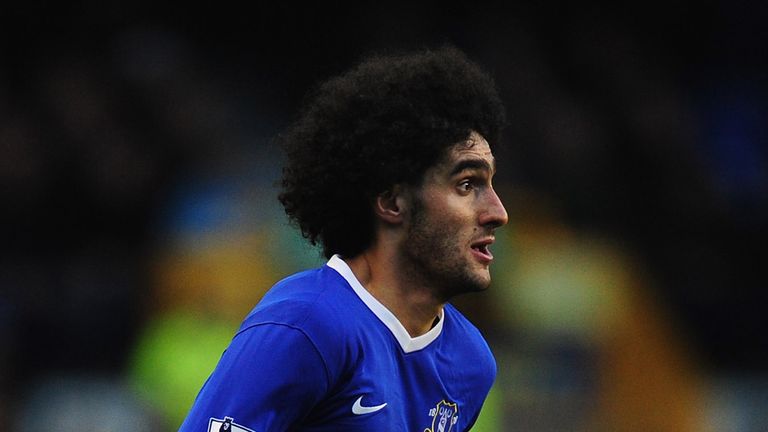 Belgian ace Fellaini is set to find his future the subject of speculation over the summer with a number of top clubs reported to be chasing his signature.
Manchester United are the latest side to be linked with a move for Fellaini following David Moyes' move to Old Trafford for the start of next season.
Fellaini insists he sees his long-term future in England and hopes he can play in the Champions League with Everton.
"Every player wants to play in the Champions League. That is the big competition," Fellaini told the Daily Mirror.
"I hope I can do it with Everton. I'm happy here. I've been at the club for five years. I'm happy because I know everybody.
"For my future, I want to play in England. The Premier League is the best league. Here there are five, six, seven, eight teams, all of whom think they are good enough to play in the Champions League and want that.
"There isn't another country in Europe where you get that."
Fellaini has played in several different roles for Everton during his time at Goodison Park, but he believes he is best suited to a defensive midfield position.
"I know my quality. I know the most important things for me. When I came here, I knew the Premier League would be difficult, knew about the physical nature of the league and the high intensity," added Fellaini.
"The manager gave me a lot of confidence and the players trusted me. I've worked hard on the training pitch and tried to give my maximum for the club.
"Sometimes I look at myself and ask, 'What is my best position?' I think it's a defensive midfielder, that's the best one.
"The manager might like it sometimes when I play up front because I can cause trouble for the defenders, but for me my best position defensive midfield - stopping the opposition and then looking to impose myself on a game.
"When I play up front, it's hard. It's not my position and I find it difficult. I've played in a few positions. Sometimes I've played well there. I understand why the manager might put me up there.