Liverpool boss Brendan Rodgers has ruled out selling Martin Skrtel
Liverpool boss Brendan Rodgers insists he has no plans to sell Martin Skrtel this summer.
Last Updated: 11/05/13 12:11pm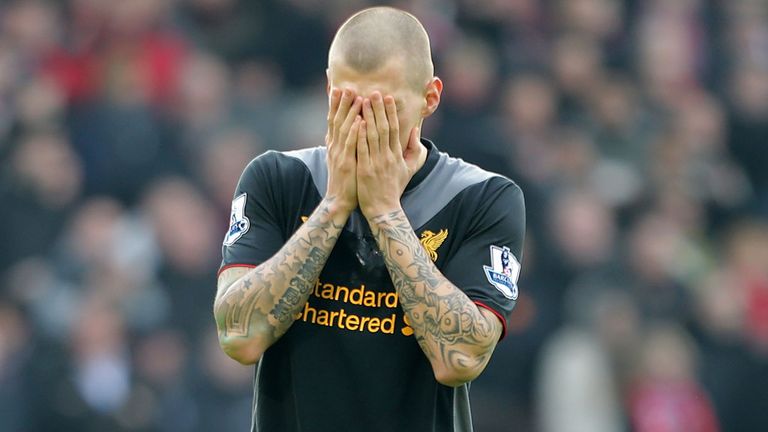 Skrtel's future at Anfield has been the subject of conjecture after losing his spot in the side to Jamie Carragher earlier this year.
The Slovakian international has started just one Premier League game since the defeat to Manchester United in January, fuelling rumours of a possible summer departure.
However, Rodgers claims the 28-year-old remains a long-term part of his plans and that he has reacted well to finding himself out of favour.
"It has been difficult for him and I've acknowledged and recognised that," Rodgers told the Liverpool Echo.
"The great professional he is means his focus has been outstanding and he's trained very, very hard every day and has been there when he's been required.
"We made the change a few months back and I think Jamie Carragher has arguably been one of the best defenders in the league and Daniel Agger has been fresh and played very well.
"It has been unfortunate for Martin but he has been a loyal member of the squad and is still very much part of my plans here.
"He's happy here, he's not in any rush to leave but players want to play. I haven't had any concerns with Martin at all, his attitude has been first class.
"It is important they know where they stand and he knows where they stand.
"He is very much a part of what we are trying to do here.
"We are trying to build up a group with a winning mentality and he's got a winning mentality. It's just unfortunate he lost his place.
"It wasn't so much through his form, it was just I felt we needed more of an organiser and a leader.
"He is certainly a player we want to keep and we have no ideas of selling him. He is an important member of our group."