Zlatan Ibrahimovic plans to stay at Paris Saint-Germain after winning title
Zlatan Ibrahimovic has denied he will leave Paris Saint-Germain after helping them win a first league title in 19 years.
Last Updated: 13/05/13 12:08pm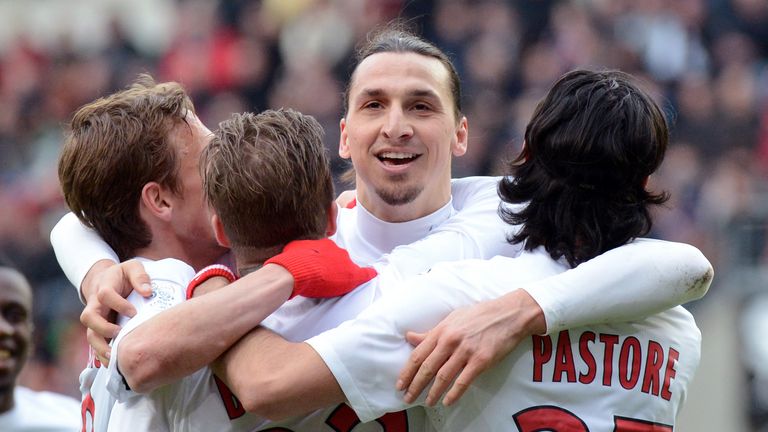 A 1-0 win at Lyon on Sunday night wrapped up what had seemed inevitable for several weeks now to start the party in the capital.
But Ibrahimovic, who first had to get through doping control before he could join the celebrations, then faced questions over his future.
"I'm very happy here," he told L'Equipe. "My start here in Paris has been perfect. I could not ask for more.
"Now I'll do my best to defend the title. I have a two-year contract. I am a professional and I respect the contracts."
There is even stronger speculation about the future of Carlo Ancelotti, but Ibrahimovic hopes the Italian coach stays on.
"He did a fantastic job this year," he said. "This is a very good coach who teaches us a lot.
"He has advanced us further during a season that has not been easy. We lost Nick Broad (the club's performance manager, killed in a car accident) in January, do not forget that.
"It was a very difficult time for the team, for everyone. It was tough mentally, he was very important to us. This victory is for him. To win after all we've been through, it's even harder."
Ancelotti insisted his team were worthy champions and reflected on a job well done throughout the season.
"We have fulfilled the goal of winning Ligue 1 and going far in the Champions League," he said.
"The team did a good job. They were very professional, even the replacements.
"This is a title that has the same place in my heart as all the others I've earned. These are all great memories. I'm very happy."