Sunderland goalkeeper Keiren Westwood may have to consider his future
Keiren Westwood has conceded not playing has been a 'right disaster' and he may need to consider leaving Sunderland.
Last Updated: 05/06/13 4:57pm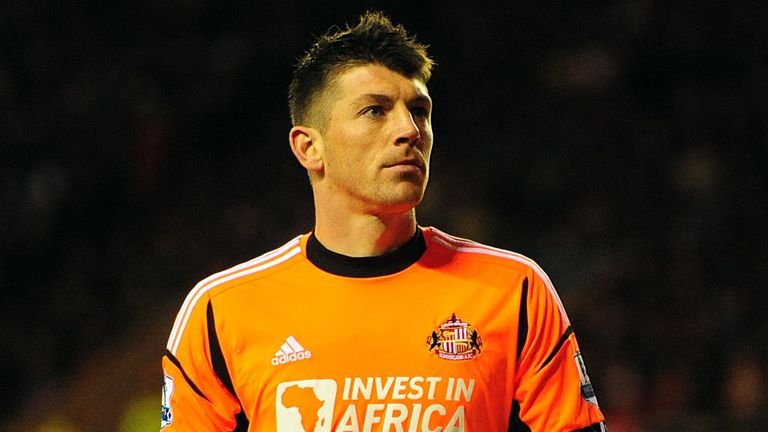 Westwood made just three appearances in the Capital One Cup last season and has featured only 13 times for Sunderland since joining from Coventry City in 2011.
His failure to play regularly for the Black Cats has cost Westwood the No.1 jersey with the Republic of Ireland and the 28-year-old is aware he may have to make a tough decision about his future.
Asked if he was open to a move, Westwood said: "I'm not too sure. I love it at Sunderland, but if I'm not going to play...
"It's a tough decision, but I need to play football, I think that's evident in itself.
"I have sort of taken a - I won't say backward step. Sunderland is a fantastic club and I think I've improved since I've been there. But not playing is a right disaster for me, I'm not going to lie."
Westwood was keen to secure a move in January in a desperate search for football, but his hopes were dashed by then manager Martin O'Neill's decision to keep him on Wearside to provide cover for Simon Mignolet.
He said: "He kept me around and I can understand why he did because to have two goalkeepers of good quality, so to speak, is a must for a Premier League squad.
"The manager, I think, was more nervous in case anything happened to Simon. He couldn't really let me go, which was a disaster, really, because it's not gone well for me since.
"I haven't played any games and I lost my place here as well. It's tough. I'm not going to lie, at times you are in a dark place and you are on your own.
"Obviously as a footballer, you want to play football and if you don't play, it's mentally challenging, I'm not going to lie."
Westwood got 90 minutes under his belt on Sunday night as Ireland beat Georgia 4-0 in a friendly in Dublin, although Forde is likely to return for Friday night's World Cup qualifier against the Faroe Islands, a minor knee problem permitting.
He could get another taste of action in New York next week when Ireland play Spain in a friendly at Yankee Stadium, but his attention will then turn to what Black Cats boss Paolo Di Canio has in mind for him at a time when Mignolet his being linked with a big-money move.
Westwood said: "We'll see how we go. A lot of stuff can happen over the off-season. Basically, I just want to play football.
"I'm looking forward to the future, if I'm honest. It's been a frustrating 12 months or so, so I'm looking to come out of the dark times and into some good ones."