Samir Nasri ready for selection battle at Manchester City
Samir Nasri has welcomed added competition for places at Man City, a club he says he joined ahead of Man Utd in 2011.
Last Updated: 26/06/13 4:09pm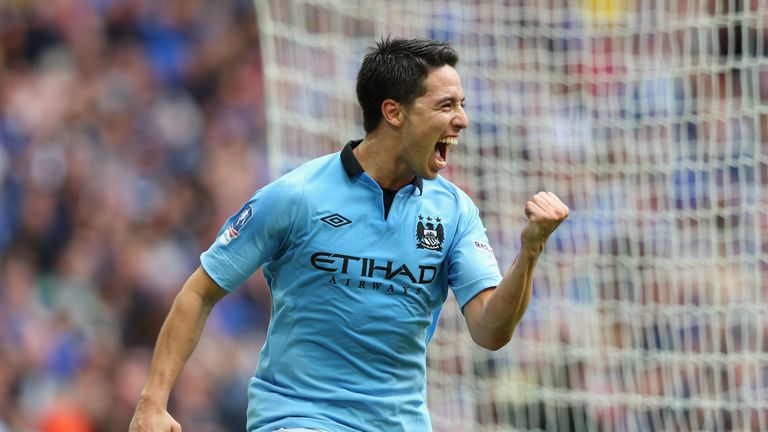 The France international enjoyed a productive debut campaign at the Etihad Stadium - which saw him land the Premier League title - but struggled for consistency along with a number of his team-mates in 2012/13.
He remains a player of match-altering ability on his day and will have a big part to play under new coach Maunel Pellgerini heading forward.
Nasri has, however, seen the pot of creative talent topped up this summer, with Brazilian playmaker Fernandinho and Spanish winger Jesus Navas having been drafted in on big-money deals.
He claims to be ready to meet the challenge of fighting for a starting berth, with no thought given to seeking a move elsewhere.
Nasri told City's official website during a Twitter question and answer session: "Of course I'm up to the challenge and the competition will just make us better.
"When you are a player, you have ambition and you play for this kind of competition. Of course I am ready to challenge. If not, I will be in my neighbourhood playing with my friends."
Nasri has also admitted that he had the option of heading for the red half of Manchester while negotiating a move away from Arsenal, but opted for City as he believes they have the greater potential.
Asked if United had been in the running for his signature, he added: "Yes, they entered into the equation but I preferred to choose Man City because I think it is the club of the future.
"They have invested a lot in the last three years and now they have got the team that can fight for every competition. I want to be part of the history. That's why I made this choice and I'm happy about it.
"I am convinced that we can win the Premier League. That is why I chose this club. I am really confident about what we can achieve together."