Transfer news: Liverpool say they have no intention of selling Luis Suarez
Liverpool managing director Ian Ayre has reiterated the club's determination to keep Luis Suarez.
Last Updated: 26/07/13 6:51pm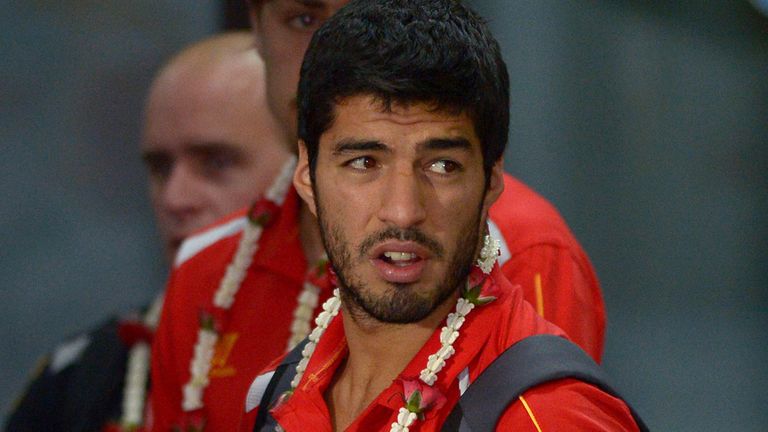 The Uruguayan forward has hinted that he wants to leave Liverpool this summer, leading to speculation that he might be on his way to a club who could offer him Champions League football.
Arsenal are currently leading the chase for the 26-year-old and lodged a bid of £40m +£1 earlier this week.
But Ayre told a press conference in Thailand, where Liverpool are preparing for a pre-season friendly, that the stance on Suarez had not changed.
"The situation with Luis Suarez remains the same," said Ayre. "It's never been our intention to sell Luis.
"We have received two separate offers from Arsenal and have rejected both.
"Luis remains a Liverpool player and is here with us in Thailand as part of our squad."
Liverpool will play the Thai national team on Sunday and Suarez will feature at some point, although he is still short of fitness, having been given time off following the Confederations Cup.
Reds boss Brendan Rodgers said: "He's three weeks in schedule behind other players.
"But one thing about Luis is he loves to play the game, he loves training and working. I'm sure at some stage of the game, he will play a part."
Meanwhile, Rodgers has also warned Luis Suarez that leaving Anfield for Arsenal could be a major mistake.
"I know what we are trying to build and grow, so why would you swap Liverpool to go to Arsenal?" said the Reds boss. "I am not sure that it adds up, to be honest.
"Arsenal have a wonderful history in their own right but Liverpool are one of the biggest clubs in the world.
"We are not in the Champions League and haven't been for a while now, but we have to step up to the challenge.
"It is difficult for Luis, I understand that. If a team wants you, it can be difficult.
"I am sure Luis will have seen the sheer size and status of the club here, so we'll just see how it goes. But it is not something we want to run on for too long."
The possibility remains that Suarez may try to force through a move but, asked if he thought that would be a mistake, Rodgers replied: "One hundred per cent.
"He has been given a team built around him. I made some big calls to make it work to suit his strengths.
"It is no coincidence that he had a great season, apart from the end bit, and we would love to have him to continue the next phase."