Transfer news: Sheffield Wednesday's Oguchi Onyewu keeping options open
Oguchi Onyewu will see what the summer brings before making a call on whether to stay at Sheffield Wednesday or move on.
By Chris Burton
Last Updated: 21/03/14 5:11pm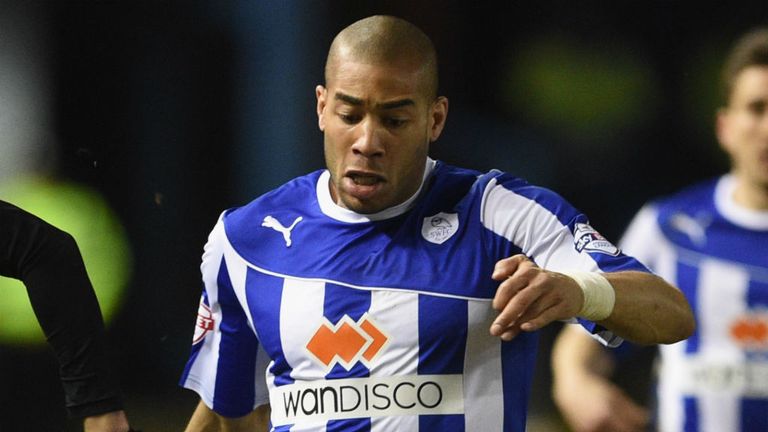 The USA international is working on a short-term contract at Hillsborough which is due to run until the end of the season.
He has been able to find regular first-team football again with the Owls, following a frustrating spell as a footballing nomad which included a stint at Queens Park Rangers.
Onyewu admits to being unsure as to what his long-term future will hold, but he will consider all of his options carefully before opening a new chapter in his career.
The 31-year-old defender told Sky Sports: "I have signed until the end of the season and you never know. Things can move very quickly in football so I never like to rule out any options or burn any bridges before I need to.
"A player of my personality and my character, I try to work towards the best always and try to always push myself to a higher level. We will have to see what happens after this season, if another situation comes up or if Sheffield is the best situation for myself."
An extended stay with Wednesday is certainly not out of the question, with Onyewu grateful to the Sky Bet Championship side for taking a chance on him.
He added: "I think every player, the minute that you give up on yourself, that's when people will give up on you. I just wanted an opportunity.
"I didn't ask for anything to be handed to me, I didn't expect it to be given to me, I just wanted a chance to prove myself. It was hard finding myself in that situation, but thankfully I ended up at Sheffield.
Motivated
"It's a great club. There is a great atmosphere and good people. It is family-orientated and immediately upon entering the club I felt welcome and like I had been here for the whole season.
"We've got a great dressing room, a great team chemistry, a good coaching team and I'm very excited and motivated, more than ever, to help this team progress in the Championship and finish the season strongly."
Onyewu is currently taking in a second spell in England, having previously spent time on loan at Newcastle United, but he is a man who has trekked across Europe in search of the game time he craves - spending time at the likes of Metz, Standard Liege, AC Milan, FC Twente, Sporting Lisbon and Malaga.
He said of his much-travelled career: "I don't think that when I started my professional career I thought I would be a globetrotter to this extent. If you'd asked me if I had the option to stick at one or two clubs in my career, I would have taken that but that's not how the situation has worked.
"It's not how life is and sometimes you have to go where the opportunity is and make a change and come through adversity in order to progress. That's what my career has been. I've taken opportunities as they have come, regardless of where they have been, and looked to make the best of them to push myself forward.
"I am blessed with the career that I have been given, the experiences I've had and the coaches that have considered me good enough to play for their side.
"Playing at Lisbon, a world-class club, Newcastle, a top club in the world, AC Milan, what a name, playing in Spain last season, one of the best in Europe, I have had opportunities to play with some of the best players in the world on my side and play in some of the best leagues. That's why I am very happy with my career, but I don't see it ending any time soon. I hope to build more memories."
Homecoming
Remarkably, Onyewu is yet to spend any time in the MLS, but he admits a homecoming could be on the cards at some stage in the future if the right opportunity presents itself.
He said: "Maybe at some point it will be the right move. It will have a lot to do with a lot of different factors. As I've said, if the league approached me in a serious manner to bring me back, I'd definitely consider it. At this moment, that hasn't been the case and as long as it's not I'm going to stay out here in Europe.
"Right now I'm like a 19-year-old again, just enjoying my football, playing all the time and having the respect of my team-mates and my club. I'm lucky to have that propel me and have the momentum to push me forward with club and country."
On the progress being made in the MLS, with the likes of Michael Bradley, Jermain Defoe, Thierry Henry and Robbie Keane plying their trade in the USA and David Beckham heading back with a new Miami-based franchise, Onyewu added: "I think right now the league is making a big push, they are signing big players, there is a lot of marketing being done. It will be interesting to see if they can sustain that.
"Once the level of players starts to rise, the level of games starts to as well. I think the MLS has taken positive steps in terms of progressing the league and sustaining the league, I hope they continue to do so."
Oguchi Onyewu was talking to Sky Sports on behalf of Sky Bet, the Title Sponsor of The Football League.
For a wide range of match odds and specials on all Football League matches and a £5 free bet every week, go to skybet.com.