Championship: Barnsley boss Danny Wilson set for biggest ever rebuilding job
Barnsley boss Danny Wilson will undertake the biggest "rebuilding" job of his 20-year managerial career this summer.
Last Updated: 02/05/14 5:18pm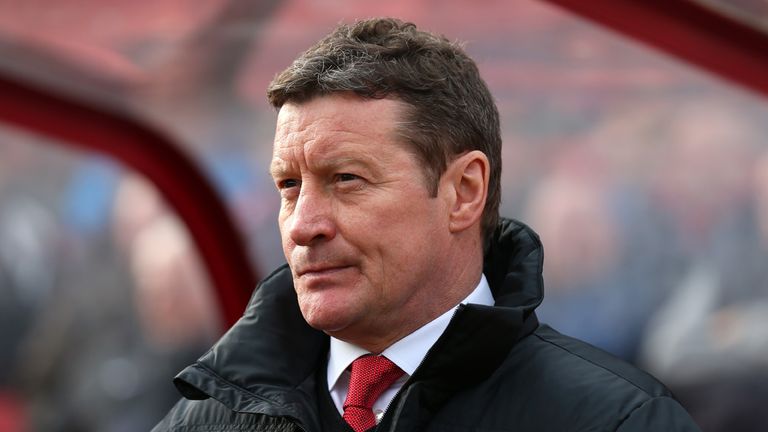 The Reds' eight-year stay in the second tier came to an end last week following defeat at Middlesbrough and with 16 players out of contract this summer, Wilson expects to start with "a clean sheet of paper" when he begins putting together a new-look squad.
"Yes, I would say it's my biggest rebuilding job as a manager," said the 54-year-old.
"There's one or two issues still to be decided and I think the (QPR) game that's coming up this weekend might provide us with an answer one way or the other.
"So there's still a lot to play for from every aspect, for the players themselves, from our position for the fans, to hopefully send them off on a high note, playing against arguably the best squad in the division.
"There can be nothing better from our perspective than to go through the summer period with a terrific win behind you against such a quality side."
Wilson said he and assistant Chris Hutchings had always been aware there would be a large turnover at Oakwell this summer.
"I think if you take in some of the younger elements of the team there's about 15 or 16 (out of contract), so in that respect it's a massive overhaul, but we knew this was going to happen," he said.
"We knew that this would have to be addressed at some stage and I wish it was another week or so before we had to decide, but we've had to put our cards on the table.
"We've got to understand that relegation brings a sadness with it and unfortunately you can't do what you wish to do if you're a league higher.
"But sometimes you can start from fresh, basically we have a clean piece of paper in front of us to a certain degree and hopefully from there we'll start to build."
Reds fans are not expected to have to wait long to find out which players will be staying at Oakwell.
Wilson added: "The retained list will be out next week, the middle of next week and the decisions that will be made will not always be easy decisions.
"There's going to be some popular ones and some unpopular ones. But the bottom line is we are doing it for the football club."