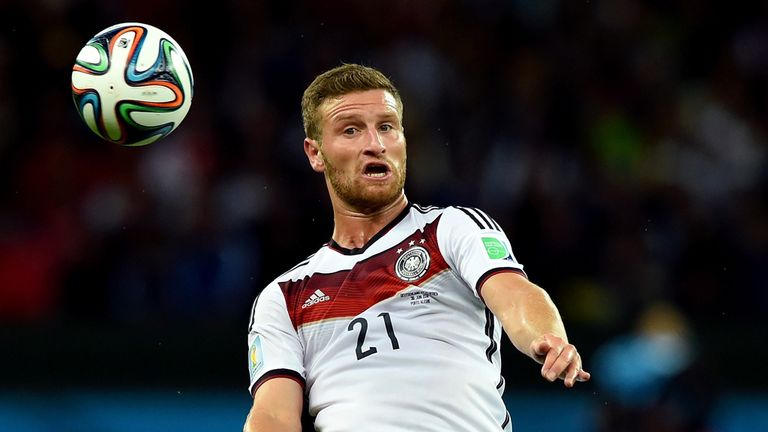 Germany defender Shkodran Mustafi has revealed he was persuaded to sign for Valencia following a discussion with their new boss Nuno Espirito Santo.
Mustafi, who made three appearances in Germany's World Cup triumph, signed a five-year contract with the Primera Division side on Wednesday to complete his move from Sampdoria.
The 22-year-old is looking forward to a fresh challenge with Los Che and is looking forward to working with Nuno, 40, who has also joined Valencia this summer having previously coached Portuguese side Rio Ave.
"I want to thank everybody who has trusted in me. Coming to Valencia is a step forward in my career and I hope to have plenty of success," he said at his unveiling.
"For me it was very important to talk with the manager before signing my contract. He is a young manager and made a great impression on me.
"Seeing the interest of the club, I realised it was the team for which I had to play. Then there is the history of the club as well.
"Despite all the big teams in La Liga, Valencia should not hide. This is a great team, and the team is capable of beating any other side. We must fight and not hide."
Mustafi, who began his youth career at Hamburg and moved to Everton before his switch to Sampdoria in 2012, was not tempted by a return to his homeland.
He reportedly snubbed the chance to move to Hamburg, Bayer Leverkusen or Schalke, all of whom had taken a glance at one of Joachim Low's surprise inclusions in Germany's World Cup squad, but he has no regrets.
"Nothing else ever came into the equation," Mustafi added.
"This is the next step for me and the reason I'm here is because everything felt right.
"I will try to contribute my strengths and qualities to help the team. Having played in three countries and seen three footballing cultures has added a lot to my game."