Neil's heroic Hoops
Charlie Nicholas explains how Neil Lennon has transformed Celtic and why Suarez is better than Torres.
Last Updated: 10/11/12 2:38pm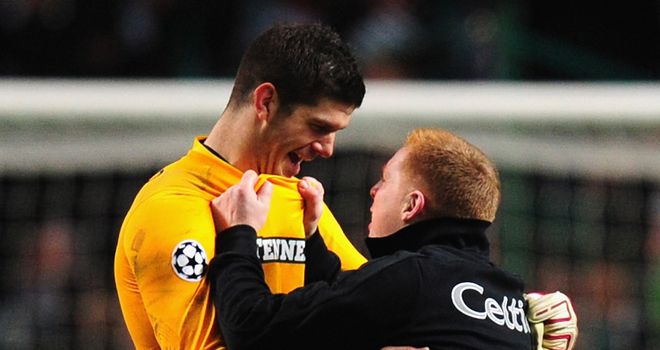 Each week on Soccer Saturday, Sky Sports pundit Charlie Nicholas describes the action from one of the day's vital Premier League clashes in his own inimitable style.
But with help of colleagues Jeff Stelling, Paul Merson, Matt Le Tissier and Phil Thompson, the former Arsenal and Scotland forward also gives his take on some of the big footballing stories.
Read below to see what he said this week on Celtic's stunning win over Barcelona in the Champions League, Luis Suarez's abilities, why John Terry is still a vital man for Chelsea and more...
Celtic boss Neil Lennon and the Hoops' win over Barcelona
"Neil wanted to fight the world last season; he wanted to fight all the political things. He got involved with referees and stormed on the pitch, but he is as bright as a button and what he has done with (assistant) Johan Mjallby this season is identified what Celtic are good at, which is shaping a team; the players have loved that and Neil has used the fans, too. For a long time Celtic were business, business, business and the club lost its soul a little bit, but Neil and his staff have brought that back.
"The team is not particularly starry, it's not always stylish and it's relatively young, but it is a proper team and Neil is getting results and performances; he deserves an enormous amount of credit. Celtic won the European Cup in 1967 and there have been many glory nights, but the result against Barcelona is right up there (as one of the greatest in the club's history). It was an amazing night and Celtic have proved they belong in the Champions League."
The abilities of Liverpool's Luis Suarez
"Luis Suarez has more all-round ability than Fernando Torres, what with his movement and change of direction. Torres was a more comfortable finisher for Liverpool because he worked on that side of his game more, but Suarez likes to do so much work outside the box in creating chances for others and is not used played up front on his own, as he is doing for Liverpool.
"I'm not sure he understood that role to start with, but now his confidence is high and give me a guy that misses three chances in a game but scores one, than a guy who gets one chance and scores occasionally. I think Suarez will get more goals now and I think he is Liverpool's best number seven since Kenny Dalglish; he is breath-taking."
How Aston Villa should be looking to progress
"The fans can turn quickly at Aston Villa and rightfully so as it is a massive football club, but if they can stay with the team and Paul Lambert, as they have done so far, I think they can get there. There should be an Everton scenario at Villa Park where they should slowly and surely get stronger and stronger. This season is about survival but with a bit of luck they might get near halfway."
Why John Terry must remain at the heart of Chelsea's back four
"Terry should still be in that defence because David Luiz, who can pass the ball, doesn't seem to like defending and doesn't see where the danger is coming from; he looks like he would be more natural in an advanced role, perhaps, as Paul Merson thinks, in Jon Obi-Mikel's defensive midfield position.
"With Terry you can guarantee organisation; that is his priority and everything else is an add-on. For me, a guy with that instinct has to play, not just because he is a leader and the club captain, but because he loves defending. Terry and Gary Cahill look like they could be a solid partnership."
Bobby Zamora's admission that he doesn't like football
"That statement could influence whether he is selected by QPR, while I'm not sure the fans are going to understand it. It is a crazy thing to say and you think: 'If you don't love the game, give up your wages, say bye-bye and walk away.' The punters are paying his wages when they go to a game but he is basically saying he doesn't care if his team wins or loses."