A slip-up for City?
Merse says there's no way Man City will beat Arsenal and that Robin van Persie will be too hot for Liverpool.
Last Updated: 11/01/13 2:32pm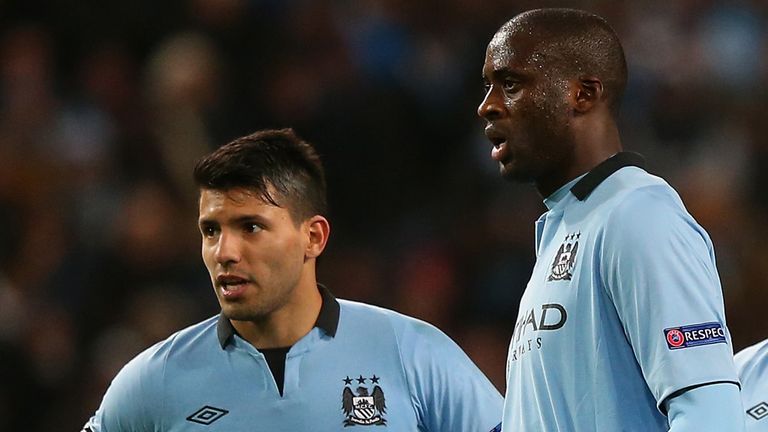 As ever, you can follow all the Premier League action this weekend on Sky Sports.
We asked Soccer Saturday expert Paul Merson to look at the fixtures and give us his verdict on where the games will be won and lost.
Every week he'll be here on skysports.com to share his views on who he expects to be the winners and losers of the weekend.
So read on for his shouts and don't forget to let us know your views via the comments box...
Ford Football Special: QPR v Tottenham
12pm, Sat, Sky Sports 2 HD
QPR had a great result at Chelsea, but it's much easier to win games when you're not expecting anything. The real test comes at home to sides like Wigan, Reading and the other teams around them... those are the games you've got to win.
They'll half-fancy themselves to get something at home to Tottenham and they've got to do everything they can to get a point. People might say they need to win games in their situation, but if they nick points here and there they will mount up over the season.
The result against Chelsea has given them a chance of staying up. They're right back in the scrap and that win at Stamford Bridge will have knocked the stuffing out of the other teams down there.
Another advantage for them is that they kick off first on Saturday. If they can get a result it will put severe pressure on the other teams, especially Aston Villa and Southampton, who play each other.
Tottenham have been playing well, but Loftus Road is a tight pitch and I can't see Gareth Bale getting loads of room to run at players with pace - and that will help QPR. Plus there's no Emmanuel Adebayor, so Spurs can't get balls in the box to him from all angles.
Adebayor has hardly set the world alight this season, Jermain Defoe has been the main man up front, but they might have used him in this game.
You'd still make Tottenham favourites, but you never know with QPR. I think they will need to play extraordinarily well and get a bit of luck to win the game.
They can't be dominated for the first 30 minutes of the match, as they were against West Brom last week, but I reckon they can get a draw.
PAUL PREDICTS: 1-1
Ford Super Sunday: Man Utd v Liverpool
1pm, Sun, Sky Sports 1 HD & Sky 3D
The difference between Manchester United and everybody else this season has been Robin van Persie.
For me, he's the best centre-forward in world football. I wouldn't class Lionel Messi as a centre-forward and Radamel Falcao couldn't lace his boots. He plays in a completely different league and I'd like to see him come to England and score 30 or 40 goals in a season.
Van Persie has been absolutely extraordinary. He scores goals out of nothing, he's a big-game player and since he's been fit in the last two years he has been head and shoulders above everybody.
Luis Suarez isn't far behind him though; he's also up there with the best of the best. He's another one of those you'd pay to watch all day long.
But they are different kinds of players. Suarez will go down the channels to get the ball and cut inside, which is something you don't see Van Persie do. He comes alive in the box and is much more lethal than Suarez.
I expect Suarez to play his natural game, despite his history with Man United, but he needs Steven Gerrard to play well behind him.
Liverpool have got to take the game to Manchester United. There are goals to be had because they're so open; the full-backs bomb on and leave two versus two at the back. That will work against the lesser teams, but if Liverpool can get lucky on Sunday you never know.
There's a big gap in league positions, but if both teams play well there's not a lot between them. However, I've got to go for Man United because they have a couple more match-winners in their team. Liverpool probably rely on Suarez a bit too much.
PAUL PREDICTS: 2-1
Ford Super Sunday: Arsenal v Man City
3.30pm, Sun, Sky Sports 1 HD & Sky 3D
I don't see Man City winning this game at all. The worst way out for Arsenal is a draw in my opinion.
I say that because there's no Sergio Aguero and no Yaya Toure. Despite all the millions of pounds Man City have spent over the years and the squad they've got, those two players will be sorely, sorely missed.
I watched Aguero the other week against Stoke City, who have probably got the best defence in the league. Ryan Shawcross and Robert Huth are two of the best centre-halves around and I've never seen them get a complete and utter run-around like they did that day. I can't see Carlos Tevez and Edin Dzeko giving the Arsenal defenders a run-around like that.
And without Yaya Toure they won't have the strength in midfield and that means we could see a game of "passy passy" in that area - and there's nobody better at "passy passy" than Arsenal. Santi Cazorla, Mikel Arteta and Jack Wilshere are great at that.
Admittedly, Arsenal were shocking at Southampton. The manager got it all wrong with his substitutions taking off Lukas Podolski and Cazorla for Gervinho and Aaron Ramsey. Any other manager in world football would have got slaughtered for that; it was Bradford revisited.
Theo Walcott didn't really touch the ball in that game and the same could be said against Swansea in the FA Cup. It will be interesting to see how Arsene Wenger uses him against two top international defenders. It's alright playing down the middle against Reading or Newcastle (who were out on their feet), but it's a big test for him against Manchester City.
There will be goals though. Both have been as bad as each other at the back and I expect Arsenal to win because Aguero and Toure will be badly missed.
PAUL PREDICTS: 3-2
Aston Villa v Southampton
PAUL PREDICTS: 2-2
Villa stopped the rot at Swansea (but they should have been out of that game in the first 30 minutes) and they were absolutely atrocious at Bradford. They had enough chances to win the game (and I still fancy them to get through), but defensively they were as poor as I've seen. When they lost 3-0 to Wigan it flattered Wigan and Southampton will go there full of confidence. I watched them against Stoke and if they play that well I don't give Villa any chance - but I'm going to keep faith that my old team will get a draw.
Everton v Swansea
PAUL PREDICTS: 3-0
Swansea were very lucky to beat Chelsea - they got in their half twice and scored twice from two mistakes - and it was probably the worst Swansea have played for a long time; they didn't put four passes together all night, so it was strange they got such a good result. They've had a lot of hard games recently and have done great, but I think this is a game too far. I think Everton are a cert.
Fulham v Wigan
PAUL PREDICTS: 1-1
It's a good job Fulham eased the pressure with their result against West Brom or else this would have been a huge game for them. As long as they don't lose this I think they will be happy. Wigan are one of those teams who always seem to play well and don't get results and it's very rare they have a nightmare. You can ignore the Man United game, but I watched them against Villa and they were very good. This should be a tight match.
Norwich v Newcastle
PAUL PREDICTS: 2-1
Norwich have lost their last four league matches, so this is a huge game for them at home. Newcastle are really struggling as well - there's not many teams in such bad form as them at the moment - and the loss of Demba Ba is a nightmare. I keep saying they won't go down, but the longer this losing run goes on the more I start to wonder. I think Norwich will carry on their woes here.
Reading v West Brom
PAUL PREDICTS: 2-1
Reading need to be patient here and play the way they did to get their win against West Ham. I think they should play 4-5-1, keep things tight, be hard to beat and go from there. A point would be enough for them, but if they can make it hard for West Brom I honestly think they can win this game - which would be a massive result.
Stoke v Chelsea
PAUL PREDICTS: 1-1
This game will depend on how Stoke approach it. I watched them against Southampton and it was the first time I'd seen Stoke players believing their own hype. They were great against Liverpool and everybody was waxing lyrical about them and they seemed to think they'd win easily. If they can get back to where they were against Liverpool I don't see them losing this game. I don't like going against Stoke at home so I'll call it a draw.
Sunderland v West Ham
PAUL PREDICTS: 2-1
This is a ruthless league and either of these sides could go five games without a win and get sucked into the relegation scrap. It's an important match for both teams, but I think Sunderland need a win badly - just for morale and confidence among the players and fans. They don't win too many games away from home, so they need to win matches like this at home.