Football Commentator & Columnist
Walt to forget
Martin Tyler has stats on woe for Jon Walters and where Man Utd would be without Robin van Persie...
Last Updated: 15/01/13 5:21pm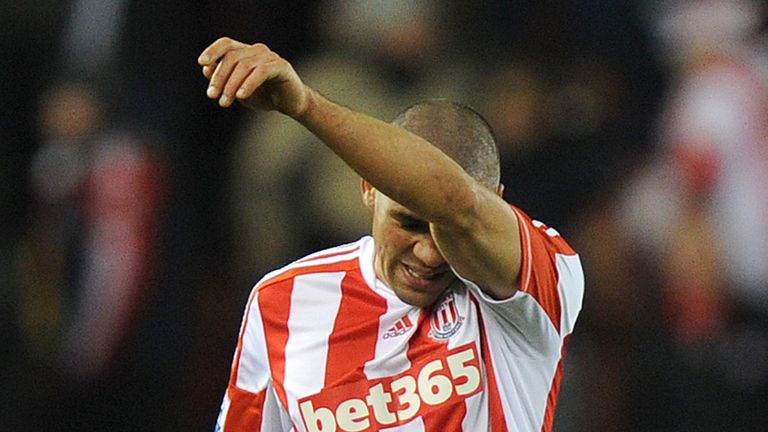 Martin Tyler's stats and facts column is here!
Every week on skysports.com he answers your questions and offers you statistical gems from what he's seen as he tours the world commentating for Sky Sports.
Sky Sports' voice of football and his back-up team of experts want your queries on all things statistical and historical from the beautiful game.
So if you have spotted something from a match or have been stumped by a pub quiz question, simply email skysportsclub@bskyb.com and he will do his best to help.
Tyler's teaser
But as usual we'll kick off with a question for YOU. Click play to see this week's Tyler's Teaser.
Martin's Starting Stats
On Super Sunday Manchester United continued their extraordinary record under Sir Alex Ferguson of never losing a league game at Old Trafford when winning at half time - a run that stretches all the way back to 1986.
It was United's eighth win in their last nine home Premier League games against Liverpool, the exception being the 4-1 win for the Reds in March 2009.
It was only the 13th time Nemanja Vidic and Rio Ferdinand have started in the last 79 Premier League games and they have only lost one of the last 28 Premier League games that they have started together - winning 18 and drawing nine. The one defeat was 1-0 at Arsenal in May 2011.
United are unbeaten in last 22 Premier League games at Old Trafford in the month of January, winning the last 17. Their last January defeat in the Premier League at Old Trafford was actually against Liverpool on January 22, 2002.
Surprisingly the game saw Howard Webb take charge at Old Trafford for the first time since Man United's 8-2 win over Arsenal in August 2011.
The game was Martin Skrtel's 200th Liverpool appearance and Stewart Downing's 300th career league appearance. Daniel Sturridge scored 12 minutes into his Premier League debut, but that was not fast enough to join the list of speedy debut scorers from last week's column!
The result extended another record for Manchester United. They have now scored in 60 consecutive top division home games since a 1-0 home defeat to Aston Villa in December 2009.
HE'LL WALT TO FORGET THAT...
Hello Martin, Jon Walters "scored" two own goals against (or should I say, for) Chelsea on Saturday. How many times, if ever, has this happened before in EPL? Aazar (Manchester United fan)
Dear Martin, Has a Premier League player ever scored two own goals and missed a penalty like Jon Walters did on Saturday? Or even scored ONE own goal and missed a penalty? I can't recall this ever happening? Anton (West Brom fan) )
MARTIN SAYS: Walters is, in fact, the THIRD player to score two own goals in one Premier League match, although the last occasion was just under a decade ago. The other two unfortunate footballers are:
JAMIE CARRAGHER: Liverpool fans coming to terms with Sunday's loss at Old Trafford won't want to be reminded about their Anfield clash with Manchester United on September 11, 1999. Jamie Carragher scored own goals past Sander Westerveld in the third minute and the 44th minute to contribute to a 3-2 victory for Sir Alex Ferguson's side. I was there on that day.
MICHAEL PROCTOR: Back on February 1 2003, Sunderland's Michael Proctor was unfortunate enough to put past Thomas Sorensen twice in a 3-1 home defeat against Charlton. He scored into his own net twice in three minutes and, remarkably, Charlton's opener was a Stephen Wright own goal as well. It was a miserable day all round as the result saw Sunderland drop to the bottom of the table.
NB. Some weekend reports suggested Gary Breen had scored a brace of own goals as a Coventry player against Manchester United in 1997, but this was not the case.
To make those players feel better, we have also seen reports of a professional player scoring THREE own goals in one game. The unfortunate player was Stan van den Buys of Germinal Ekeren, who put into his own net three times in a Belgian league game against Anderlecht in the 1995/96 season. The match finished 3-2!
To answer your other question, Walters has become the first player to score two own goals AND miss a penalty in the same Premier League match, but Opta have found one other occasion of a player scoring one own goal and missing a penalty in the same game.
That player was Aston Villa's Juan Pablo Angel who missed a penalty against 10-man Tottenham in October 2006 and then gave Spurs the lead by heading into his own net with 15 minutes to go. However, Gareth Barry spared his blushes late on and the game finished 1-1.
I must point out that Opta's records do not stretch back to the start of the Premier League on this topic so if you can recall any other players missing a penalty and scoring an own goal in the same game then let us know.
VAN THE MAN
Hi Martin, I read an article the other day in which it said Man Utd would be mid-table if it wasn't for Robin van Persie. This led to several people saying Man Utd are a one-man team. I am just wondering what the league table would look like if each of the Premier League teams had their star players removed. Thanks, Phil (Chelsea Fan)
MARTIN SAYS: If Robin van Persie's 17 Premier League goals were stricken from the records then Manchester United would be 21 points worse off this season. That would effectively see them drop below Arsenal into sixth place, so it's fair to say the impact he has made on Manchester United's season has been significant - but I would not call them a one-man team.
The player whose goals have earned the second-highest number of points for his team is Edin Dzeko. His 10 strikes have seen Manchester City pick up an additional 12 points this campaign, while Michu's 13 goals have added an extra nine points for Swansea.
Here is a table showing the number of points the top scorer of each Premier League side has earned for his team this season. Where a team has joint top scorers we have selected the player whose goals have earned the most points for his side. We have also indicated where the team would be in the table if those points were removed from their current tally.
| | | | | | |
| --- | --- | --- | --- | --- | --- |
| Team | Top scorer | Goals | Points earned | Current position | Position minus those points |
| Arsenal | Theo Walcott | 8 | 1 | 6th | 6th |
| Aston Villa | Christian Benteke | 6 | 6 | 18th | 20th |
| Chelsea | Juan Mata* | 7 | 6 | 3rd | 5th |
| Everton | Marouane Fellaini | 8 | 7 | 5th | 9th |
| Fulham | Dimitar Berbatov | 7 | 5 | 13th | 16th |
| Liverpool | Luis Suárez | 15 | 7 | 8th | 14th |
| Man City | Edin Dzeko | 10 | 12 | 2nd | 6th |
| Man Utd | Robin van Persie | 17 | 21 | 1st | 6th |
| Newcastle | Demba Ba | 13 | 6 | 16th | 19th |
| Norwich | Anthony Pilkington** | 4 | 6 | 12th | 16th |
| QPR | Adel Taarabt | 4 | 3 | 20th | 20th |
| Reading | Adam Le Fondre | 6 | 6 | 19th | 20th |
| Southampton | Rickie Lambert | 9 | 5 | 15th | 19th |
| Stoke | Jonathan Walters | 5 | 6 | 10th | 14th |
| Sunderland | Steven Fletcher | 8 | 7 | 14th | 18th |
| Swansea | Michu | 13 | 9 | 9th | 14th |
| Tottenham | Jermain Defoe | 10 | 6 | 4th | 6th |
| West Brom | Romelu Lukaku | 9 | 4 | 7th | 10th |
| West Ham | Kevin Nolan | 5 | 5 | 11th | 14th |
| Wigan | Arouna Koné | 6 | 1 | 17th | 18th |
*Frank Lampard and Fernando Torres have also scored seven Premier League goals for Chelsea. Those goals have earned three and four points respectively.
*Grant Holt and Robert Snodgrass have also scored four Premier League goals for Norwich. Those goals have each earned Norwich four points.
INTERNATIONAL FLAVOUR
I noticed that players from 21 different countries played in the game between Fulham and Wigan the other night. Fulham's entire first XI was made up from 11 different nations. Is this some kind of record? Kind regards, Mats Svensson, Sweden
MARTIN SAYS: You are correct. The 27 players involved in Fulham's 1-1 draw with Wigan on Saturday came from 21 different nations. Indeed, Fulham's starting XI was made up of 11 different nationalities and they added two further nationalities with two of their substitutes. If they'd put on one of their Swiss players - Pajtim Kasami or Philippe Senderos instead of Chris Baird then they would have used 14 different nationalities during the game!
21 nations represented in Fulham 1-1 Wigan last Saturday
Argentina (Di Santo)
Australia (Schwarzer)
Barbados (Boyce)
Bulgaria (Berbatov)
Chile (Beausejour)
Colombia (Rodallega)
Costa Rica (Ruiz)
Croatia (Petric)
England (Jones, Richardson)
Germany (Riether)
Greece (Karagounis)
Honduras (Figueroa)
Iran (Dejagah)
Netherlands (Stam)
Northern Ireland (Baird, Hughes)
Norway (Hangeland)
Oman (Al Habsi)
Republic of Ireland (Duff, McCarthy)
Scotland (Caldwell, Maloney, McArthur)
Spain (Gomez, Ramis)
Sweden (Kacaniklic)
Remarkably, there have been four games in Premier League history with even more nations represented - and in fact we've seen a match THIS SEASON with even more players involved. That was West Brom's home game with QPR in October when 22 different nationalities were involved:
22 nations represented in West Brom 3-2 QPR on 06/10/2012
Argentina (Yacob)
Belgium (Lukaku)
Brazil (Cesar)
Cameroon (Mbia)
Canada (Hoilett)
Chile (Jara)
DR Congo (Mulumbu)
England (Ferdinand, Foster, Hill, Wright-Phillips, Zamora)
Hungary (Gera)
Macedonia (Popov)
Morocco (Taarabt)
New Zealand (Nelsen)
Nigeria (Odemwingie)
Northern Ireland (McAuley)
Portugal (Bosingwa)
Republic of Ireland (Long)
Romania (Tamas)
Scotland (Mackie, Morrison)
Senegal (Traore)
South Korea (Park)
Spain (Granero)
Sweden (Olsson, Rosenburg)
However, the record was set in February 2011 when players from 23 different nations appeared in Wigan's 4-3 victory over Blackburn Rovers on February 5, 2011.
Argentina (Di Santo)
Australia (Emerton)
Barbados (Boyce)
Canada (Hoillett)
Colombia (Rodallega)
Congo (Samba)
England (Cleverley, Robinson, Watson)
France (N'Zogbia, Nzonzi)
Grenada (Roberts)
Honduras (Figueroa)
Ivory Coast (Gouhori)
New Zealand (Nelsen)
Norway (Pedersen)
Nigeria (Moses)
Oman (Al Habsi)
Paraguay (Alcaraz)
Republic of Ireland (Dunn, McCarthy)
Scotland (McArthur)
Senegal (Diame, Diouf)
Spain (Salgado)
Sweden (Olsson)
USA (Jones)
Zimbabwe (Benjani)
Here are the nine occasions in Premier League history when players from more than 20 nations have appeared in one match:
23 NATIONS
05/02/2011: Wigan v Blackburn Rovers
22 NATIONS
06/10/2012: West Brom v QPR
16/04/2012: Arsenal v Wigan
26/12/2011: Manchester United v Wigan
21 NATIONS
12/01/2013: Fulham Wigan Athletic
01/02/2011: West Brom v Wigan
23/01/2011: Blackburn v West Brom
30/10/2010: Fulham v Wigan
24/10/2009: Chelsea v Blackburn Rovers
I must make it clear that, as ever in this column, these are football nationalities - the country the player represents at football and not necessarily where they were born.
It must also be observed that those players mentioned above who have not played international football yet, could potentially opt to play for different countries to those listed above.
TOP FOR TWO
If Demba Ba were to score more Premier League goals this season for Chelsea than any other Chelsea player and no Newcastle player scores more than his current Newcastle total for this season, will he be the first player to have been the top scorer for two different clubs in the same season? Chris Horsfield
MARTIN SAYS: If this was to happen it would indeed be a first. No player has ever been the Premier League top scorer for two different clubs in the same season. Demba Ba has scored 13 for Newcastle this term - which is nine more than their next highest scorer Papiss Cisse. However, Fernando Torres, Juan Mata and Frank Lampard already have seven league goals apiece, so he has a lot to do to finish as Chelsea's top scorer.
No player has topped the scoring charts for two sides in the same Premier League season, but Darren Bent went extremely close in 2010/11. He finished that season as Aston Villa's top scorer following his January move to Villa Park from Sunderland where he'd already registered eight goals. He actually ended up as Sunderland's second highest scorer that term, just two goals behind Asamoah Gyan.
Louis Saha also went close in 2003/04. He finished the season as Fulham's top scorer with 13 Premier League goals - even though he left the club in January. He moved to Manchester United and scored a further seven times to finish as their third highest scorer.
The only other player to score seven times or more for two different teams in one season is Andy Cole. Back in 1994/95 he scored nine goals for Newcastle before a multi-million pound transfer to Manchester United where he netted 12 times before the end of the campaign. However, he did not top the scoring charts as either club, finishing behind both Ruel Fox and Peter Beardsley at Newcastle and behind Andrei Kanchelskis at Manchester United.
There are eight players to have appeared in the top 10 Premier League scorers lists in a season, having scored for two different clubs. I have detailed those below:
Teddy Sheringham (1992/93) - 22 GOALS
Nottingham Forest: 1 goal (joint 7th top scorer)
Tottenham: 21 goals (top scorer)
Andy Cole (1994/95) - 21 GOALS
Newcastle: 9 goals (joint 3rd top scorer)
Man Utd: 12 goals (2nd top scorer)
Eric Cantona (1992/93) - 15 GOALS
Leeds 6 goals (joint 4th top scorer)
Man Utd: 9 goals (joint 2nd top scorer)
Andy Cole (2001/02) - 13 GOALS
Man Utd: 4 goals (7th top scorer)
Blackburn: 9 goals (2nd top scorer)
Louis Saha (2003/04) - 20 GOALS
Fulham: 13 goals (top scorer)
Man Utd: 7 goals (3rd top scorer)
Benjani (2007/08) - 15 GOALS
Portsmouth: 12 goals (top scorer)
Man City: 3 goals (joint 6th top scorer)
Darren Bent (2010/11) - 17 GOALS
Sunderland: 8 goals (2nd top scorer)
Aston Villa: 9 goals (top scorer)
Andy Carroll (2010/11) - 13 GOALS
Newcastle: 11 goals (2nd top scorer)
Liverpool: 2 goals (joint 7th top scorer)
HIGH FIFTY-FIVE
Dear Martin. Big fan of the column. Manchester United look like they are in a pretty dominant position with 55 points so far this season and I have got two questions for you. Have Manchester United ever had such a good start to a Premier League and has a team ever had more than 50 points at this stage and NOT gone on to lift the title at the end of the season? Keep up the good work, Marvin (Manchester United fan)
MARTIN SAYS: I can confirm that this is Manchester United's best ever points tally after 22 games of a Premier League season. Their previous best after 22 games was 53 points in their title-winning season of 1993/94 (W16 D5 L1). In fact, in their first ever Premier League season they only had 38 points at this stage - 17 points less - and they still went on to lift the title.
1992/93: 38 points
1993/94: 53 points
1994/95: 49 points
1995/96: 41 points
1996/97: 41 points
1997/98: 49 points
1998/99: 41 points
1999/00: 50 points
2000/01: 50 points
2001/02: 42 points
2002/03: 41 points
2003/04: 50 points
2004/05: 44 points
2005/06: 45 points
2006/07: 54 points
2007/08: 51 points
2008/09: 50 points
2009/10: 47 points
2010/11: 48 points
2011/12: 51 points
2012/13: 55 points
Manchester United's current tally is, in fact, the joint second-highest total after 22 games of any Premier League season. The record was set by Chelsea's champions of 2005/06, who had an incredible 61 points at this stage (W20 D1 L1).
I can confirm that no side with 52 points or more after 22 games of the season has failed to win the title. Seven teams have had 52+ points at this stage and all of them - including Manchester City last season - ended up as champions.
However, we can't say that all teams with more than 50 points at this stage have ended up with the title. Three teams have had 51 points at this stage and not become champions including Manchester United last season and the Newcastle team of 1995/96.
The other side to fall short was Arsenal, who had 51 points in 2007/08 and finished third - although Manchester United also had 51 points that year so one of them had to miss out!
Teams with more than 50 points after 22 games of a Premier League season:
Chelsea (2005/06): 61 points
Man Utd (2012/13): 55 points
Chelsea (2004/05): 55 points
Man City (2011/12): 54 points
Man Utd (2006/07): 54 points
Man Utd (1993/94): 53 points
Arsenal (2003/04): 52 points
Blackburn (1994/95): 52 points
Man Utd (2011/12): 51 points*
Chelsea (2009/10): 51 points
Man Utd (2007/08): 51 points
Arsenal (2007/08): 51 points*
Newcastle (1995/96): 51 points*