Hammer and strong
Merse tips key draws for West Ham and Chelsea plus wins for Fulham, Man Utd, Arsenal and Swansea.
Last Updated: 22/02/13 3:42pm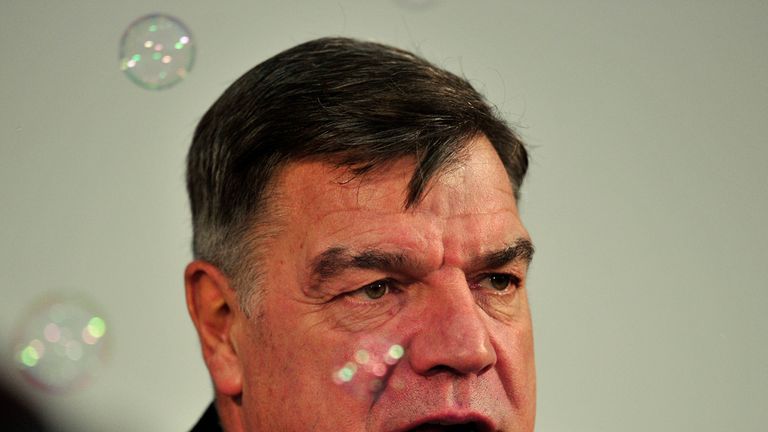 As ever, you can follow all the Premier League action this weekend on Sky Sports - and this week you can see the Capital One Cup Final as well.
We asked Soccer Saturday expert Paul Merson to look at the fixtures and give us his verdict on where the games will be won and lost.
Every week he'll be here on skysports.com to share his views on who he expects to be the winners and losers of the weekend.
So read on for his shouts and don't forget to let us know your views via the comments box...
Ford Football Special: Fulham v Stoke
12.30pm, Sat, Sky Sports 2 HD
You always get one team that gets dragged into the relegation battle late on in a season and some people are saying that could be Fulham.
But I think they'll be okay - and I say that because there are a lot of teams below them and also because they've got Dimitar Berbatov. He makes them tick, he's at the heart of their play and he can do things that are out of the ordinary. That's what you need when you're near the bottom.
Martin Jol's side have lost five games at home this year, which is a bit of a surprise because they always give teams a game. It's very rare that they get blown away at Craven Cottage and their win over West Ham a few weeks ago was hugely important for their confidence.
And if there's anybody you want to play at home these days, it's Stoke. They've only won one and scored eight away from home in the Premier League this season.
So I'm sure this is a game that they have highlighted. If they win this they will go on to 32 points with 11 games left and I think that will be enough to keep them in the Premier League for another year; if you can't win one or two of your last 11 then you deserve to go down!
They'll be alright and I think they'll win this game.
PAUL PREDICTS: 2-1
Ford Super Sunday: Man City v Chelsea
1pm, Sun, Sky Sports 1 HD & Sky 3D
The reason these teams are a million points behind Man United is because they haven't been consistent enough.
Chelsea have thrown away leads too often against teams like Reading and Southampton and I think their title challenge ended when they played a weakened team against QPR and got punished. If they'd have won that game they'd have had a lot more momentum.
And I don't think Man City have coped well with being champions. Every game has been like a cup final because everybody raises their game against them and they've struggled with that. We saw it in the last game against Southampton when they didn't seem to have a plan and got well beaten.
These two teams should be playing for first place, but Chelsea still can't be certain of a place in the top four. If they lose this game they might finish the weekend just two points above Arsenal in fifth and at risk of not qualifying for the Champions League.
To be honest, I expect these two teams to finish second and third (Chelsea have quite a kind fixture list), but this is a big football match all the same. Chelsea can't afford to lose this and let go of any momentum.
I don't think Man City can afford to lose it either and I think both of them would be fairly satisfied with a draw.
PAUL PREDICTS: 1-1
Capital One Cup Final: Bradford v Swansea
3.30pm, Sun, Sky Sports 1 HD & Sky 3D
Bradford deserve to be in this final. They've beaten Wigan, Arsenal and Aston Villa and now they should go out and enjoy their once-in-a-lifetime chance at Wembley.
And you never know what might happen in football. Arsenal were supposed to wipe the floor with Birmingham in the League Cup Final and came unstuck and Liverpool were supposed to wipe the floor with Cardiff last year and only won it on penalties.
The problem for Bradford is that Swansea's passing and movement is as good as anybody's. I've watched them a few times this season and seen them outclass teams like QPR and Aston Villa right from the start. Bradford have to get through the first 30 minutes without being torn apart or else they could be in major trouble.
The League Two team need to work hard and rely on set-plays but, without wanting to sound disrespectful, I just hope the scoreline doesn't get silly. Wembley is a big pitch and if Swansea get the ball down and score a couple of early goals then that will be it.
I think the passing and movement of Swansea will prove to be too much and I just hope it doesn't end up being 4-0 or 5-0.
PAUL PREDICTS: 0-3
Ford Monday Night Football: West Ham v Tottenham
7pm, Mon, Sky Sports 1 HD
I mentioned earlier that one team always gets sucked into the scrap, so this is a massive game for West Ham.
After this game they play Stoke (a), Chelsea (a), West Brom (h), Liverpool (a), Southampton (a), Wigan (h), Man City (a). There's only two home games in there and you could ask where they'll get a win from in those seven games. Teams like Reading could catch them up in that period.
You'd think the 30 points they've got should be enough - I reckon they're only two wins from safety - but if you don't win in seven matches and you're out of form then you end up being at risk.
ButI think they will stay up and the reason I say that is because Sam Allardyce is the manager. He's been there and done it and knows how to deal with these situations.
As for Spurs, it's beyond me why they didn't buy a centre-forward in January. Gareth Bale is carrying them through, but you can't keep relying on him to produce a bit of magic. He's doing it consistently at the moment, but it will dry up sooner rather than later.
West Ham is a tough place to go, as we saw against Swansea a few weeks ago. They'll get balls in the box and they'll know they can't afford to lose this match given the fixtures they've got coming up.
And with Big Sam in charge I think they will get the draw they need.
PAUL PREDICTS: 1-1
Arsenal v Aston Villa
PAUL PREDICTS: 3-0
Arsenal have got 12 cup finals coming up now and this is the biggest game of their season so far. They've got to catch Tottenham for that Champions League spot and if they don't get three points here I can't see that happening. Aston Villa have done alright at the Emirates over the years, but I can't back them this time. Arsenal have to win or else their season could be all over after the Tottenham game next week.
Norwich v Everton
PAUL PREDICTS: 1-1
Norwich are another team that are on a slippery slope towards the bottom three. They're not exactly flying at the moment, but if they can't win games then they need to make sure they don't lose them. Everton have hit a bit of a brick wall, they look a little jaded as the pressure has increased, and I think they'll have their minds on the FA Cup because the top four has probably gone. I think a draw would be a great result for Norwich here.
QPR v Man Utd
PAUL PREDICTS: 0-2
QPR are really struggling now and you wouldn't think they would get anything in this game. After this, they play Southampton, Sunderland, Aston Villa, Fulham and Wigan. Those are the big games, but time is running out for them and they haven't dragged enough teams into the mix. I don't see Manchester United taking their eye off the ball because they're on such a roll and I can't see anything but an away win.
Reading v Wigan
PAUL PREDICTS: 2-1
Football's a funny game, but whoever loses this is probably relegated - that's how massive this game is. A defeat to one of your closest rivals can absolutely kill you when you're down the bottom. Wigan play Liverpool and Man City in the next two games and I don't see them getting much from those and they'll go five points behind Reading if they lose this. However, it's an even bigger game for Reading, who need to highlight their home games. I'm just going to lean towards them.
West Brom v Sunderland
PAUL PREDICTS: 3-2
West Brom rode their luck against Liverpool, but the important thing is that they won the game and they are well safe now. They'll be a dangerous team to play against for the rest of the season because the pressure is off them, but the same can't be said for Sunderland. They've done well at times this season, but they're only on 29 points and are still in the mix. I think this will be a good game with plenty of goals because both teams have enough firepower, but I'm going for West Brom because they should be full of confidence again.
Newcastle v Southampton
PAUL PREDICTS: 2-1
If Southampton win this game and then beat QPR, then that should be safety assured with 10 games to go. Newcastle will also look at this as a big chance to make sure they're still in the Premier League next season, but some of the players and staff will have made a long trip into Ukraine on Thursday night and they need to be out there at 1.30pm on Sunday, which is an awkward time (you end up eating pasta at 9.30am, which is pretty weird...) This is a good time for Southampton to go there, but I'm just leaning towards Newcastle with home advantage.