Gary Neville analyses Aston Villa's defeat to Manchester City
Aston Villa cannot afford to make costly individual mistakes if they are to stay up, says Gary Neville.
Last Updated: 09/03/13 11:48am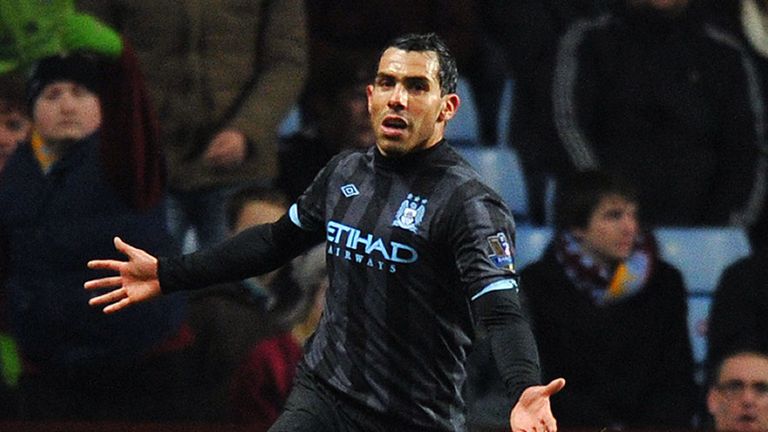 The champions battled to a 1-0 win at Villa Park with Carlos Tevez's first-half injury-time goal proving decisive.
However, in the build up to the goal Edin Dzeko had robbed Ciaran Clark of the ball, just inside the Villa defender's half - a challenge the Irishman was unhappy with.
And Villa's frustrations were later compounded when their second-half penalty appeals were waved away after Matija Nastasic had felled Christian Benteke in the box and seemingly handled the ball.
Neville conceded that on another day the decisions may have fallen in Villa's favour, but he felt the officials were not in a position to award fouls in either instance - and criticised Clark for holding onto the ball for too long.
"The two decisions are not howlers by the ref at all," he said. "For the goal Clark dwells on the ball and he shouldn't do that in that position - he just needs to get rid of it.
"(Mike) Dean is a long way away and you see his arm come up and it looks like he's going to give a foul and he doesn't. I don't think he's sure and he maybe thinks Clark has slipped.
"He puts his whistle to his mouth, decides not to give the foul and then Carlos Tevez shows great composure and slips it round the goalkeeper.
"From an Aston Villa perspective you can't get caught dwelling on the ball. Clark, as much as he feels he's been fouled, will know he's made a mistake.
Difficult
"And then, in the second half, there are definitely claims for a penalty - but it's a really difficult decision to give because of the angle of the referee.
"Nastasic's right leg kicks Benteke in the shin and the ball then goes up and hits Nastasic's hand. I'm not sure you can do anything about the handball - that would be hash - but there are claims for a penalty.
"Benteke claimed for a handball not the kick, while the linesman was blocked and it was hard for the ref to see.
"So, there are two big decisions in the match and the referees have been in positions where it's been difficult for them to see the contacts or fouls."
The result leaves Villa in the relegation zone on goal difference and, when asked to comment on their survival chances, Neville pointed to their upcoming games against fellow strugglers Reading and QPR as vital contests in their bid to stay up.
"I think it's going to be tough [for them to avoid relegation]," he said. "It's easy to sit on the fence and say 'we'll know more after the games against Reading and QPR' - but that's the reality of it for them.
"The Clark mistake is the sort of silly mistake you can't keep making in that area because they're the ones that cripple you in the end."
Unlikely
Title holders City reduced the gap between themselves and table toppers Manchester United to 12 points with victory at Villa Park, but Neville feels they face a huge task to overhaul his former side.
And he says he cannot see Sir Alex Ferguson's men conceding enough points to give Roberto Mancini's charges the opportunity to catch up.
"City will hope what happened last season can happen again," he said, referring to City coming from eight points behind with six games to play to win the league in 2011/12.
"When you're the chasing team you need something to happen, though. You can concentrate on your own games but the games are dwindling down now and there are only 10 to go.
"United need to lose four or five games and City need to win every one of their matches. That's highly unlikely.
"City need United to start getting injuries, losing form and conceding goals - everything that's not happening at the moment. United look comfortable."