Weekend Watch
With the Manchester derby on Sunday plus two other live Premier League games over the weekend, there promises to be some exciting action ahead. We look at some of the biggest talking points in England and beyond...
By Adam Bate
Last Updated: 20/09/13 11:54am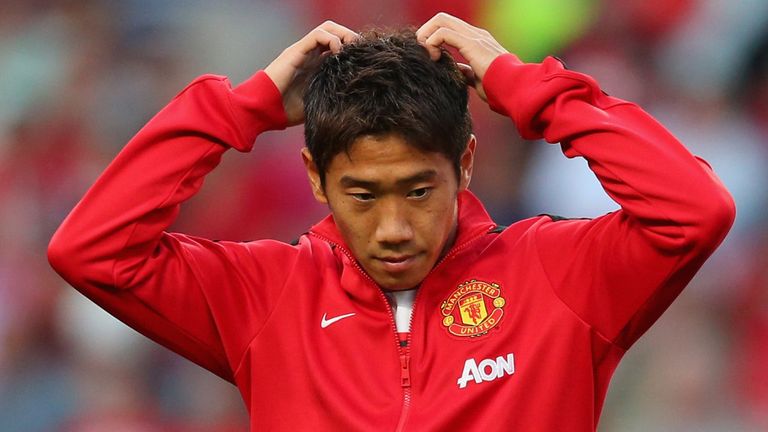 Manchester derby
After routine Champions League wins for both Manchester City and Manchester United on Tuesday, the pair renew Premier League hostilities at the Etihad Stadium on Super Sunday. With Manuel Pellegrini and David Moyes each tasting defeat in their first four games in charge, the loser of this match will find their team on seven points from five games - not exactly crisis time but certainly enough to get the terraces tetchy.
Pellegrini's wins so far have come at home to an abject Newcastle side and a slightly unfortunate Hull City, while one point from six against Cardiff and Stoke suggests there is a vulnerability to his City side early this season. United will obviously represent a tougher test and the main issues facing Moyes appear to be matters of team selection. Having lanced the boil of the Free Shinji campaign against Bayer Leverkusen, will Kagawa retain his place or could veteran Ryan Giggs earn a recall? AB
Chelsea blues
While Rafael Benitez's Napoli were producing an assured performance to beat last season's Champions League finalists Borussia Dortmund in Naples, the Spaniard's successor Jose Mourinho was enduring a rather more difficult time of things at Stamford Bridge. There is no need for panic on the streets of London after Chelsea's surprise 2-1 defeat to Basel but there are clearly issues for Mourinho to address. The returning boss has already tried four players in the lone striker role and has yet to find the right blend in midfield with Juan Mata yet to be given 90 minutes.
A derby day clash with neighbours Fulham should focus Chelsea minds and confidence is likely to remain high given that the Cottagers haven't won at the Bridge since 1964. But any further signs of the sort of sloppiness on offer in midweek and the wannabe arts and crafts experts of west London will be readying their flags and banners imploring Mourinho to give their Spanish magician a fuller role in the side. It's enough to make Rafa homesick. AB
For a detailed analysis of Chelsea's disappointing defeat to Basel on Wednesday, click here
You can catch the derby between Chelsea and Fulham live on Saturday Night Football at 5.30pm
Beauty and the beast?
No team played more passes than Arsenal last season, while Stoke claimed their customary slot as the side with the worst passing accuracy in the Premier League. But Mark Hughes is quietly going about smoothing those rough edges and the 'beauty and the beast' narrative is being challenged - the Potters have reached the dizzy heights of the top 12 for Premier League passing accuracy and might have a surprise or two in store for Arsene Wenger on Sunday afternoon.
Unfortunately for Hughes, this is an in-form Arsenal. After stealing the headlines for the wrong reasons on the opening weekend, the Gunners have won six on the bounce including the north London derby and potentially tricky away days at Fenerbahce, Fulham and Marseille. With Mesut Ozil showing signs of bringing the best out of Theo Walcott and Olivier Giroud this could be the wrong time for Stoke to dabble with a more expansive game. AB
Is Theo Walcott learning? Click here for our assessment of the England winger's midweek display
Arsenal take on Stoke live on Sky Sports 1 HD at 1.30pm on Super Sunday
Battle of the winless wonders
The bottom two teams in the Premier League face each other at the Hawthorns on Saturday and while some may be shocked by the identity of the teams propping up the table, neither West Brom nor Sunderland have any right to be surprised. New boys aside, no top flight team has picked up fewer points than the Baggies and the Black Cats in 2013 - a miserable 18 apiece. Contrast that with the 58 and 49 points respectively that were accumulated in 2012 and all the signs are that these are teams on the slide.
Of course, their response to the problems have been rather different. While Albion sat tight and willed their worries away before pressing the button marked panic and handing over £6million for Victor Anichebe, Sunderland have sought to blow apart the remnants of the Martin O'Neill regime and now fashion a side from the Paolo Di Canio induced rubble. This one feels like a must win... Which surely means it's a nailed-on draw. AB
Lambert in the lions' den
Paul Lambert's Aston Villa surprised many with their 3-1 win at the Emirates Stadium on the first day of the season but seem to have become Bizarro Arsenal since then - mirroring the Gunners' good form with three consecutive defeats to plunge them down the table and sap much of the pre-season optimism. Last weekend's home defeat to Newcastle brought murmurings of familiar failings and lessons not being learnt.
Lambert could do with breaking that sequence but is unlikely to find too many friendly faces offering gifts at Carrow Road. The Scot endured legal wrangles with the Canaries after walking out to move to a "huge club" in Villa but could only guide them to 15th last season - four places below the team he'd left. Given the aforementioned battle at the bottom, defeat here would almost certainly leave Lambert and his team in the drop zone. AB
Can Liverpool keep the run going?
Liverpool may have required the help of Agent Shelvey to maintain their unbeaten start to the season last time out but it's been an impressive opening to the campaign from Brendan Rodgers' team as they sit top of the table going into the weekend. A home fixture against a strangely disjointed Southampton represents a good opportunity to move at least three points clear of their nearest rivals by close of play on Saturday. Apparently there's a South American lad called Suarez returning next week too... AB
Standing on the shoulders of giants
There were two hat-tricks in the opening round of Champions League games and the scorers could hardly have been more predictable. Lionel Messi and Cristiano Ronaldo are making the extraordinary seem routine on a twice weekly basis these days. So much so that experts have been accustomed to tempering their praise of others. For instance, it is now customary to refer to a top-class player in the form of his life as "the third best player in the world". We all know the other two.
Gareth Bale is the player currently vying for that honour of sorts and the Welsh winger will be hopeful of making his Bernabeu bow against Getafe on Sunday evening. A repeat of his goalscoring debut against Villarreal last weekend would be welcome. Of course, the problem for the world's most expensive player is that his team-mate Ronaldo is likely to grab three. For true fans of Spanish football, you can catch Messi's impending hat-trick at Rayo Vallecano the previous night. AB
Watch Rayo Vallecano v Barcelona live on Sky Sports 2 HD at 7pm on Saturday
Watch Real Madrid v Getafe live on Sky Sports 1 HD at 6pm on Sunday