Alvaro Negredo: Jeff Stelling thinks Spaniard could sit out big games
Jeff Stelling admires Alvaro Negredo - but thinks he may get the chop when Man City combat the big clubs.
Last Updated: 07/11/13 5:32pm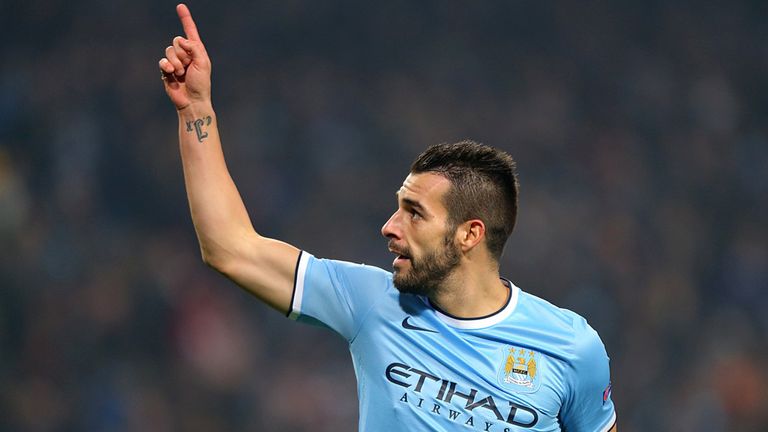 It's the absolute minimum City should have achieved, what with the resources and players they have got, and the draw that they were given, which is as near to a gimmie as is humanly possible.
The great achievement will be when they match the heights reached by teams like Bayern Munich, though that great achievement could be just around the corner.
I don't necessarily agree with Didi Hamann in that City can win the Champions League, but I do think they have a chance of making a real impact in Europe because they are playing some exhilarating football, particularly over the last week.
Going forward, I'm not sure there is anyone in Europe that can match Sergio Aguero, Alvaro Negredo, David Silva, Samir Nasri, Yaya Toure etc.
They have a litany of terrific attacking players and if they close the door at the back, they've got a bit of a chance of going some way.
There is a bit of the old-fashioned English centre-forward in Negredo, in that he is big, bustling, works his socks off and runs from the first minute to the last - but he has a lovely touch to boot.
There is a lot to admire about him - I have been particularly impressed at how quickly he has settled into life at the Etihad considering he hasn't been a regular starter - but the big question is whether Pellegrini will use him with Aguero against the bigger clubs?
City's current philosophy seems to be: 'Whatever you score, we'll score more', and I really hope that continues, but I'm not entirely convinced they will stick to that going forward in the Champions League after they were taken apart by Bayern Munich.
Different
David Silva, meanwhile, has been brilliant in the last few games and makes a massive difference to City, but one man who has really come to the fore is Samir Nasri, who appears a totally different player from the previous season.
Last year he looked like he wanted to be anywhere other than playing football for Manchester City but this term he has been exceptional on the ball, worked hard without it, and seems to be in his best form since he was at his absolute peak at Arsenal.
However, City have worries at the back and I don't think getting Vincent Kompany back is the complete answer; that's no sleight on the Belgian but there are more problems defensively than just his absence.
I'm not sure they know what to do at left-back, while even when Kompany is fit, who plays with him? Probably Matija Nastasic - because they don't seem to fancy Joleon Lescott or Micah Richards and Martin Demichels is not getting any younger - but it's not set in stone.
It's ironic that we are talking about City's flamboyant, free-flowing football and defensive fragility this season when last year we mentioned those in relation to Arsenal, who have probably defended better than the rest of the English teams in the Champions League so far.
Laurent Koscielny and Per Mertesacker have been roundly criticised but have been exceptional, and while Arsenal are still playing terrific football, with the likes of Aaron Ramsey in sumptuous form, they now look much more solid at the back.
Heartbeat
Elsewhere, Jay Rodriguez and Adam Lallana have joined Southampton team-mate Rickie Lambert in the England squad and their call-ups are richly deserved after brilliant starts to the season on the South Coast.
Rodriguez has been terrific and I am a massive fan of Lallana; he is a terrific footballer, one of the heartbeats of that Southampton side, and I am slightly surprised he hasn't entered the field for England before.
I'm not sure many other Saints players will creep into the England squad before the World Cup but it might be worth taking a look at both of the club's full-backs, left-back Luke Shaw and right-back Nathaniel Clyne.
Shaw probably won't go to Brazil because he has got two fantastic players in Ashley Cole and Leighton Baines ahead of him, but there is no question in my mind that he is a future England full-back - and the same may apply to Clyne.
Southampton are brim-full of English players - I also like the look of James Ward-Prowse even though it is still early days in his career - and that is great for them and great for Roy Hodgson.
Jeff's Gem of the Week
I could have nominated Man City for firing seven past Norwich but I'm going to pick Sheffield Wednesday, who hadn't won a game all season until they defeated promotion-chasing Reading 5-2 at Hillsborough.
Wednesday have been scoring goals, leading around half a dozen times before failing to hold on to their advantage, but this was the day where everything clicked into place and they got three points.
I'm sure they were helped by Sunderland loanee Connor Wickham, someone who I think is very talented and can still play Premier League football, and I'm pleased for Wednesday manager Dave Jones (pictured) who is one of football's nice guys.
He must have been looking over his shoulder - and probably still is - but at least this result has given him a bit of respite.