Top of the class
With Everton enjoying an impressive season, manager Roberto Martinez has been telling anyone who will listen just how important Gareth Barry is proving to the team's success. Adam Bate argues that it's high time the midfielder receives the plaudits he deserves.
By Adam Bate - Follow @GhostGoal
Last Updated: 20/12/13 1:18pm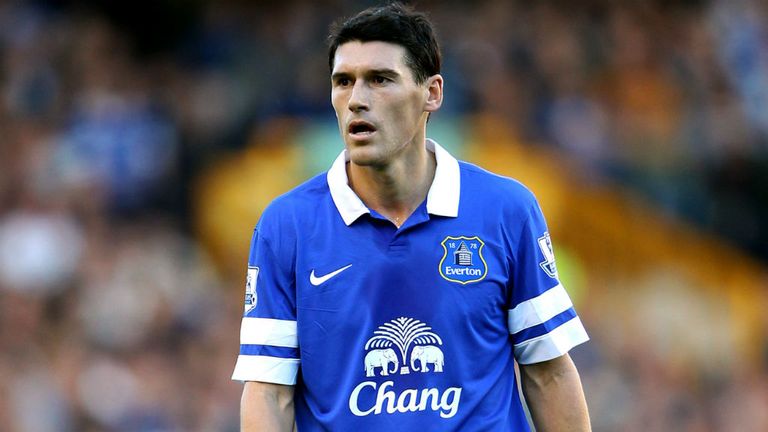 "Barry's got a very good agent," blathered Joey Barton. "He's also discreet and always agrees with the manager. He's like the guy who sits in the front row and listens to the teacher. I certainly don't lose any sleep when I play against him." That's unlikely to happen anytime soon as Barton finds himself showcasing his talents in the Championship but it would be wrong to suggest his infamous rant didn't resonate with people. After all, not everyone gets Gareth Barry.
Scott Parker is another contemporary with whom he has frequently been unfavourably compared. Parker's dynamism won him the adulation of the press as he claimed the FWA footballer of the year award in 2011, despite his West Ham team finishing bottom of the Premier League. He made the PFA team of the year the following season too... Barry had to content himself with a Premier League winners' medal.
That contrast hints at a recurring theme of Barry's career. It emerged when the Liverpool fans yelled at Rafa Benitez urging him not to sign the midfielder in 2009, even though the Spaniard later remained insistent that he was "perfect" for their requirements. In a sense, Barton was right: Barry is a manager's player rather than a darling of the media or the terraces. Where the outspoken QPR man is misguided is in flippantly dismissing the reasons for that.
Roberto Mancini is an admirer. In fact, Barry played more Premier League games under him at Manchester City than anyone else. "Gareth is a good guy and a serious professional player," said Mancini. "He is really serious as a man." The contrast between this assessment and Barton's meltdown on the day City claimed the title at the Etihad Stadium in May 2012 is so stark it should require no explanation why one has been capped 53 times more than the other.
Of course, in a team that included the likes of David Silva, Yaya Toure and Sergio Aguero, Barry would be the last man to suggest City's success was down to him. But he did make it easier for those star names. "He is one of those players who you don't really appreciate until he's not there," noted then team-mate Joleon Lescott. "I'll bet if you ask any of our midfielders who they most want to play with, their partner would be Gareth Barry."
Following a summer loan move, it is now Everton feeling the benefit of Barry's presence at the club. And the familiar acclaim regarding his character has arrived. "It is not just in the games, it is in having him around," said manager Roberto Martinez. "From the first day that he arrived he has been an incredible influence with the youngsters and an influence on the standards we have in training. Just with that alone you realise what a figure we have at the club."
Character. Influence. Professionalism. Watchwords of a Premier League career that has spanned 15 years and over 500 matches. But it is on the field where Barry has surely been misunderstood. He is seen by some as a defensively-minded midfield spoiler - hence the reason why he received such criticism for not preventing Germany's fast breaks at the 2010 World Cup, despite not being fully fit. And yet, there is far more to Barry's game than that.
Benitez cited his versatility. He has also netted in each of the last dozen Premier League seasons. Furthermore, Barry is one of only four midfielders to average more than two tackles per game for the past five campaigns. Then there is the passing. Barry's reliable use of the ball and regular involvement in the hub of the midfield sees him rank among the top 10 players this season in terms of successful passes per 90 minutes.
It is important to note that these are not merely sideways passes. Barry is not in the John Obi Mikel mould. Sky Sports pundit Glenn Hoddle recently highlighted Chelsea's inability to play through the pitch, questioning the absence of a progressive passer from deep. Barry has that element to his game - the capability to play those fast passes into players breaking between the lines. It is the sort of quality that has moved Martinez to suggest Barry is "quite unique in his profile as a footballer" in this country.
A look at Everton's creativity this season highlights the point. While Ross Barkley has captured the imagination with his performances as a No.10, it is notable that Barry has created more chances from open play than the youngster. Even Leighton Baines trails in his wake, with only Steven Pienaar, Kevin Mirallas and midfield partner James McCarthy creating openings more often - perhaps showing that the Irishman is yet another man benefiting from the balance Barry brings to a team.
"Players like Gareth Barry allow you control the game well," added the Everton coach, quoted in the Liverpool Daily Post. "Gareth manages the transitions so well, and he is always in the centre. He is key when we are in possession, and he uses the width of the pitch well with his positional play. I've never seen such a level-headed footballer. He never gets emotional and he is a specialist in that position. He's what I would call a 'No.6' type of player, like Michael Carrick. English football produces box-to-box midfielders, not 'No.6' midfielders.
"Gareth is a tactical footballer. He plays in front of the back four and gives a good balance with his distribution of the ball. You look at every team in the Premier League, they spend a huge amount of money to bring that type of player in. Paulinho and Sandro at Spurs, Fernandinho at Manchester City, Lucas Leiva at Liverpool, the list goes on. English football doesn't produce those, Barry and Carrick are the only two I think, and I am just pleased that Gareth is at our club. He's a great footballer."
Many of those on the outside may never appreciate those qualities quite like Barry's managers do. But as he nears his 33rd birthday there are signs that public opinion is shifting. While Parker labours near the foot of the table with Fulham and Barton chirps from the Championship, Barry just keeps on keeping on. And most importantly, his teams continue to enjoy success: Barry has won eight, drawn four and lost none of the Premier League games in which he's featured this season. It's something Everton supporters are welcoming.
"The job I do is an unspectacular one so maybe the Everton fans have the ability to look at the game a bit differently to fans at other clubs and appreciate what I do," he explained earlier this season. "I enjoy that sort of role. It doesn't hit the headlines as much as your attacking midfielders or your strikers, but for me it's about doing a job and if the team is successful I'm reaping the benefits of that." He may have a good agent. But then, Gareth Barry's a very good player.