Udinese - No Sanchez deal
Udinese have stated no deal has been brokered with Barcelona for Alexis Sanchez amid reports of an agreement.
By Simone Bargellini
Last Updated: 21/06/11 12:17pm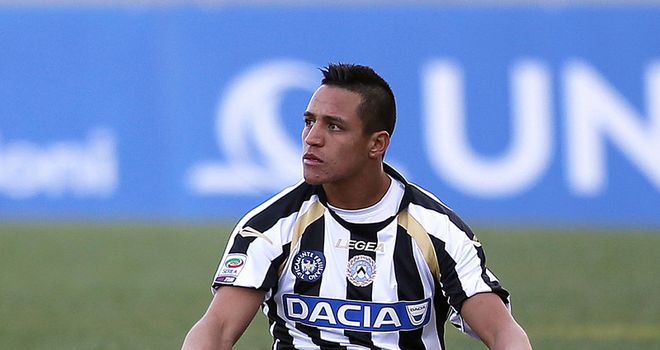 Udinese have stated no deal has been brokered with Barcelona for Alexis Sanchez amid weekend reports the starlet would be flying in to finalise the transfer.
The 22-year-old forward is currently training with the Chilean national squad ahead of next month's Copa America, but was thought to be ready to leave the camp to rubber-stamp the transfer.
The Catalan giants have reportedly offered €28million (£24.6m) up front along with a €11m (£9.6m) bonus and promising youngster Jonathan Soriano in exchange.
However, Udinese president Giampaolo Pozzo insists Sanchez remains the club's player as Barcelona's offer remains well short of the club's asking price.
"Sanchez is still an Udinese player," he told Sky Sport 24 Italia. "I'm sorry about this 'saga'. We wanted to keep him for another year to help us with the UEFA Champions League qualifiers.
"But unfortunately we're not a big club in Europe, so when top clubs put their eyes on our player you cannot do anything. But the right offer has not yet arrived.
"Barcelona's offer is not yet the right price, and everyone knows it: both Barcelona and other big clubs. Between us and Barcelona we are still far away."
Liable
Meanwhile, Chile boss Claudio Borghi will allow Sanchez to travel to finalise his possible Barcelona switch as they do not want to be liable in the event of injury.
If he signs for Barca without travelling and is then injured in the tournament then Chile could be liable for a whopping £27.8million bill.
Chile are eager to avoid a potentially messy financial scenario by allowing the coveted talent to link up with Barca once the terms of the deal are agreed.
"It's a very complicated matter," Borghi told Chilevision. "If we don't allow him to travel, and the sale goes through, we would be accountable for $45million in the event of anything happening to him.
"It's very simple. As soon as the confirmation of his transfer comes through, he will have the authorisation (to travel).
"If (the transfer) happens in the middle of the Copa America, obviously not, but we have time and we know we cannot be responsible for that amount of money, so the ideal situation would be for him to travel and sign when the deal is confirmed."