Jol praises Johnson show
Martin Jol praised reported West Ham target Andrew Johnson after his goal against RNK Split.
Last Updated: 05/08/11 8:16am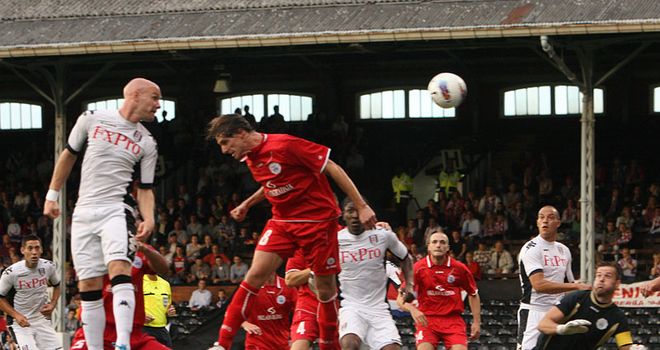 Martin Jol brushed off speculation linking Andrew Johnson with a move to West Ham United after praising the Fulham striker's performance against RNK Split.
Fulham put their name in the hat for the Europa League play-off draw on Friday courtesy of a 2-0 home success over Split, with Johnson's header setting the Cottagers on their way.
The 30-year-old missed large chunks of the previous two campaigns with injuries and netted just three goals for the club last season.
Johnson has already equalled that tally this season during Fulham's European run and Jol admits his return to form is a welcome boost.
Great player
"Sharp and in good form - that is the way I always saw him when I was working in England," said Jol.
"He is a very good player, lively and he can play the ball too.
"He can also do something in an individual way like he did with (winning) the penalty kick so I can't ask for more. If he stays fit then he is a great player for us."
Reports emanated on Thursday that West Ham manager Sam Allardyce was lining up a £2million bid for the striker, whose contract runs out at the end of the season.
When asked about the Hammers' interest, Jol retorted: "It's always the same, there's always interest in five or six players.
"Maybe you don't know about that but now you do you start talking about it. People will always talk because we have got good players."
Disadvantage
Jol will now prepare his troops for the opening match of the Premier League season against Aston Villa a week on Saturday but admits preparations have been far from ideal due to their Europa League commitments.
"We could organise another game for next Tuesday but I think that's a bad idea," he added.
"We have played six games now. Maybe you would prefer to play eight or nine games in the pre-season as some other players didn't play a lot so that is probably a disadvantage, but I am satisfied with the results because we got through to the next round.
"But I cannot be satisfied with the preparation because we only played on a Thursday and you can't just focus on these matches the whole time.
"You have to work on conditioning as well so it's not easy."