Wenger wants RVP contract done
Arsene Wenger is delighted Robin van Persie has committed himself to Arsenal but says it would be 'ideal' if he signed a contract.
By Subhankar Mondal
Last Updated: 17/10/11 8:13am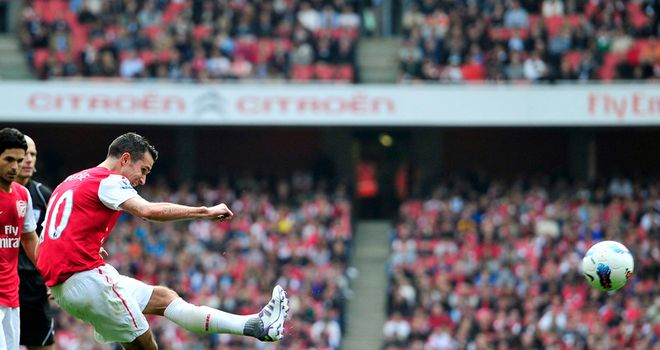 Arsenal manager Arsene Wenger is delighted that Robin van Persie has publicly committed himself to the club but admits that it would be 'ideal' if the forward puts pen to paper.
Van Persie's current contract with the Gunners runs out in June 2013 and his apparent lack of urgency to enter negotiations over an extension has sparked suggestions that he could move to Manchester City next summer.
However, the Netherlands international dismissed these rumours in his pre-match programme notes ahead of Arsenal's 2-1 home victory over Sunderland in the Premier League on Sunday in which he scored both goals.
Wenger is glad that the 28-year-old has publicly revealed his desire to continue with the North London side but admits that it would be "ideal" if a new contract is officially drawn.
"Unfortunately the ideal situation in football does not exist often," Wenger told Arsenal's official website.
"The ideal situation is that he extends his contract but if he doesn't you have to respect that.
"You know what is important is that he plays like he plays because we are all here to see special football players and he is a special football player."
Commitment
"It depends what you call commitment," explained the Frenchman on the issue of commitment of his captain. "For me commitment is not about how long you are at a club.
"As long as you are at a club you will give 100 per cent until the last day of your contract. That for me is what you call commitment.
"The length of a contract is completely different. For me you have players who have ten-year contracts who don't give full commitment, and for me it is not about the length of a contract.
"He knows that we are ready to talk about it but the most important thing is today and how much you are committed to the cause as long as you are at the club."
Sunday's win at the Emirates has placed Arsenal in 10th spot in the league standings, with 10 points from eight matches.