The David Beckham camp say he is mulling over 'a number of serious proposals'
David Beckham's representatives say the former England captain is still deciding on his next move.
Last Updated: 27/12/12 6:22pm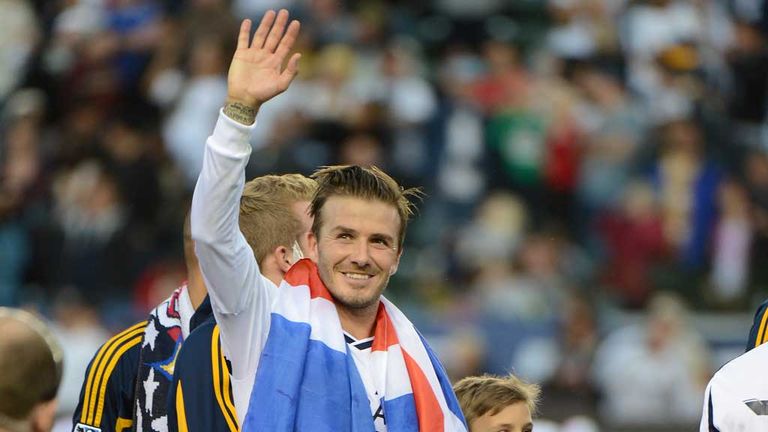 The 37-year-old finished a five-year contract with the Los Angeles Galaxy earlier this month, and went out on a high as the Galaxy claimed a second MLS Cup success.
Beckham is now deliberating over what may be the final move of his career and has been linked with teams in England, France, China and Australia.
And his management company released a statement on Thursday which read: "There are a number of serious proposals on the table, from a host of clubs across the world.
"David is no hurry to make a decision and the key is making the right one, as he has always done successfully in his career.
"It's early days in the process. David is enjoying spending quality time with his family over the holidays."
Beckham enjoyed a hugely successful spell at Manchester United between 1993 and 2003 and has previously said a return to the Premier League to play for another team is unlikely.
The midfielder is also reported to have decided against a move to Australia's A-League while French sports daily L'Equipe says ambitious French second division side Monaco have ended talks with the Beckham camp.
Linked
Beckham, formerly with Manchester United and Real Madrid, has been strongly linked with a move to Monaco in the French second division.
They are coached by former Chelsea boss Claudio Ranieri, who has previously stated his interest in bringing Beckham to the club, and backed by wealthy Russian owner Dimitri Rybolovlev.
It is understood reports in France that Beckham has priced himself out of a move to Monaco are premature.
Monaco are one point behind Ligue 2 leaders Nantes at the halfway point of the season.