French fancy
Phil Thompson says Didier Deschamps would be a suitable choice as Liverpool's next manager.
Last Updated: 18/05/12 10:58am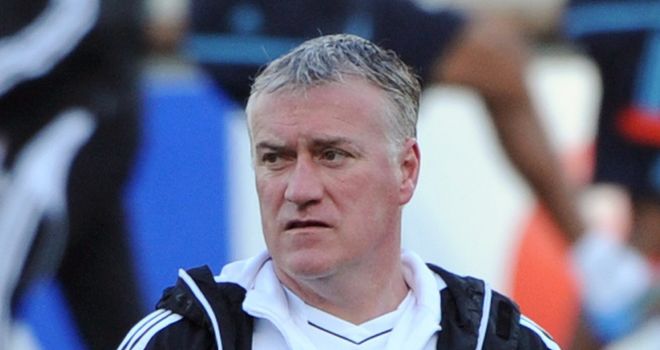 Liverpool's King has been dethroned.
The axe has fallen on Kenny Dalglish following the Merseysiders' eighth-placed finish in the Premier League, their worst showing in the top flight since the 1950s.
Dalglish led the Reds to Carling Cup glory and to the FA Cup final, but the club's owners, Fenway Sports Group, have decided to make a change after Liverpool fell short of the Champions League spots for the third successive season.
Former Anfield manager Rafael Benitez, Wigan's Roberto Martinez and one-time Chelsea chief Andre Villas-Boas have been touted as possible successors to the outgoing Scot.
But in an interview with Sky Sports News HD, Liverpool legend Phil Thompson explained why he would like to see ex-Monaco and Juventus boss Didier Deschamps take the reins...
"The word is that the owners always wanted a new, younger man and I just hope he is given time because I don't want us to be one of these clubs who keep chopping and changing their manager.
"The owners might want young, but I think someone like Didier Deschamps would be the right fit. He has played at the top level [captaining France to the World Cup in 1998] and managed at a high level.
"There are up-and-coming managers who have done well in the Premier League - Roberto Martinez, Paul Lambert and Brendan Rodgers. They have been respectful in their interviews and handled the media well, but footballing-wise I think it might be a bit early for them.
"Andre Villas-Boas has been mentioned but it might be too soon after Chelsea, while it would be very difficult for Rafa Benitez to come back. He did well before and would love the opportunity to come back - but sometimes you have to start afresh.
"But who is going to make the decision? Do the owners know enough about Premier League football? I don't know. A lot of the burden will be on [managing director] Ian Ayre and he might have to make that important call.
"Whoever it is, though, the new manager will need a fair crack, because Roy Hodgson lasting six months and Kenny lasting 16 is not enough time.
Rumours
"As far as sacking Kenny goes, it was an extremely difficult decision but I am not shocked by it. You looked at all the rumours and it took me back to when Gerard Houllier and myself were coming to the end of our tenure.
"I would have said Kenny should have got 12 more months at least, with a possible review at Christmas. Even if he didn't make any signings, that team would never have had as bad a time as they had last season.
"They only won six home games but if half of the chances they'd created went in our league positions could have been different. That's why I am saying he may have been given a little bit longer.
"If he had his time again, I'm sure the personnel and the tactics would have been done differently, but Kenny has stabilised the club and he did very well towards the end of last season [2010/11].
"This is a massive decision and hopefully the club can move forward. It is just terrible that it has been at Kenny's expense, who is an iconic figure and Liverpool's best-ever player."