Phil Thompson tips Man Utd, Swansea and Coutinho for big seasons
Phil Thompson makes his pre-season calls with fears for Fulham and praise for Caulker and Coutinho...
Last Updated: 07/08/13 10:34am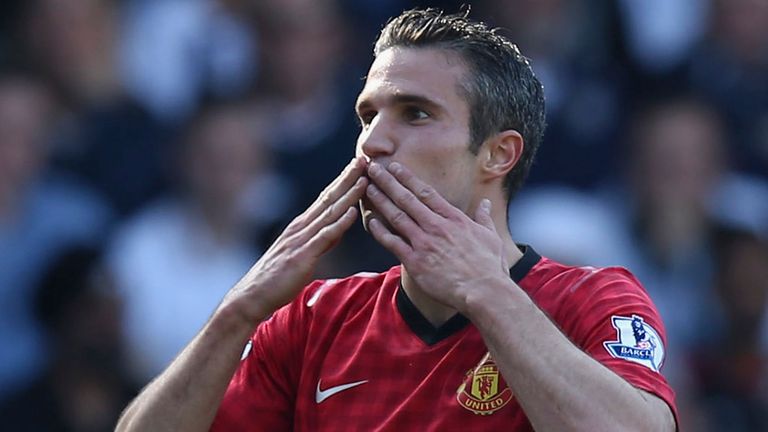 Phil Thompson will once again be joining Jeff Stelling and the boys every Saturday afternoon on Sky Sports News to bring you live updates from the big games - and the former Liverpool and England skipper has made his shouts below...
Who will win the title?
I think this is an extremely difficult question. Last year I got it spot on because Robin van Persie was the big mover of the summer and I felt that wherever he pitched up, the championship would follow. This year is similar with lots of high-profile transfers - Rooney, Bale, Suarez and Fabregas - still not decided. If you were to ask me at this particular moment, I would have to say Manchester United. They've been there, seen it and done it and they haven't lost anybody at this moment in time.
Agree with Thommo? Back Manchester United to win the title here.
Chelsea will be big contenders under Jose Mourinho and they will be my tip if they do end up getting Wayne Rooney on board. He could tip the balance, as Robin van Persie did, and with a new lease of life he could be the man. As for Manchester City, they have made some very good signings, but will they all hit the ground running? I think Alvaro Negredo will fit the Premier League and Jesus Navas is very skilful, but very often when you make four signings a couple of them won't work out.
Who will finish in the top four?
I think the top three - Manchester United, Chelsea and Manchester City are quite secure and I think it will be a straight fight for the other spot between Arsenal, Tottenham, Everton and Liverpool. If Arsenal don't get any players in - and they've failed to until now with Gonzalo Higuain signing for Napoli, Cesc Fabregas not coming back, Marouane Fellaini not happening and Luis Suarez looking unlikely unless they put up an awful lot of money. However, if I had to pick one now I would probably look to Arsenal because Spurs are still a little light in the striker department and Olivier Giroud will be better following his first year in the Premier League.
Who will get relegated?
You always look at the teams who are coming up and I think Hull City and Crystal Palace will be down there. I quite fancy Cardiff to survive though because they've been nearly there for the last couple of seasons and I really like the signing of Steven Caulker. It looks as though they have a bit more money to try and strengthen. Norwich could be a concern because even they've made some okay signings and spent more money than last summer on some good players, if they don't gel they will be in trouble. However, my third team would be Fulham. They've not been too active in the transfer market with just a few free signings and a new goalkeeper, but at the moment I'm not too convinced by them.
Who will be the surprise package?
I do think Cardiff will be ok. They've got good options, they're a strong and physical team and I think they will stay up but I'm not exactly sure that's what you would class as a "surprise package". I'm trying to think of a team who did what Newcastle did a couple of years ago and really punch above their weight and I think Swansea could be that team. Michael Laudrup did very well last year with the signings of Chico and Michu and I reckon Wilfried Bony will be a good buy. I was impressed by them against Malmo in the Europa League because the Swedish side are half-way through their season, so I'm tipping Swansea to have an even better season than last year and push on again.
Who will be top scorer?
I would probably have to go for Robin van Persie. At this moment you can't say what Luis Suarez is going to do or where he's going to be. I don't think he will be far behind, but I'd be daft if I didn't go for the Manchester United striker. He made the difference last year and he could do it again.
Who is the best signing so far?
As a central defender myself I would go for Steven Caulker, who I think is a really good player. I know Spurs have got a lot of defenders, but I was surprised they let him go because I'm a big fan. Cardiff had to pay quite heavily for him - £8million I believe - but I think that's a very good signing for them. Fair play to Cardiff for doing the deal, but without wanting to show them any disrespect I was quite surprised he has gone there and there's probably a few other teams kicking themselves for not getting in there.
Who is your player to watch?
I'm going to go for a Liverpool player here. Philippe Coutinho made a great impact last year and looking at pre-season, he looks more comfortable and he has been working on the physical side of his game. I think he could be one of the stars of the Premier League, I really do. He's only a young lad, but he has fantastic vision, scores goals and he could be a real one to watch this year.
Which young player should we look out for?
I like the look of Luke Shaw at Southampton. He was fantastic last year and I like him very much because he's like a young Leighton Baines - although a quicker version. He has good pace, a good delivery and even though he's not the tallest he is a good defender and is destined for great things.
Wish for the season?
I felt it wasn't a great Premier League season last year and I would like to see more teams looking to win matches and expressing themselves a bit more. I want to see more attacking football. Last year too many teams were cautious when they went away from home and seemed to be scared of losing games rather than trying to win them. I know it's difficult for the teams near the bottom, but just look at what Swansea have achieved in the last couple of years by playing a nice brand of football. I don't expect teams to risk everything by having a go, but I'd like to see less emphasis on defence.
Catch up with Matt Le Tissier's Premier League predictions here.