Alan Pardew headbutts David Meyler: Sky Sports pundits react
Gross misconduct? Crossing the line? See what the pundits made of Alan Pardew's headbutt.
Last Updated: 04/03/14 1:01pm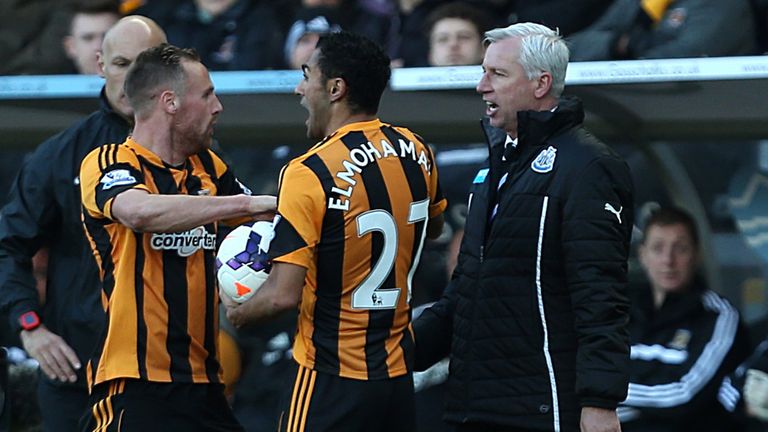 However, Sky Sports' experts suspect he could now face huge repercussions from both the FA and his employers for an incident, the type of which has never been seen before in a Premier League game. Here's what Jamie Redknapp, Paul Merson, Phil Thompson and Charlie Nicholas made of it...
Jamie Redknapp - It's totally unacceptable
I am trying to think if I have ever seen a manger in Premier League history do something like that and the answer is no. It was absolutely unacceptable; Meyler may have gone into him a little bit but you don't put your head towards him, it's just not right. As a manager you have to set standards and show responsibility as you are representing your football club, but this is the second time this year [he has been involved on the touchline] as he had a run-in with Manuel Pellegrini. I expect the FA to go in severely here as it is completely wrong and out of order.
Paul Merson - I've never seen anything like it
The ball was cleared for a throw and Meyler went to get it. Alan Pardew always stands on the sidelines during a game and Meyler pushed him out of the way to get the ball. When Meyler was coming back he said something and they both squared up and Pardew went [with a headbutt motion]. They both put their heads together and he went forward. Straight away Meyler went mad and the ref forced him away. The ref called Meyler over when it had all calmed down and showed a yellow card and then he went to Pardew with a red. Alan Pardew literally just looked and walked off, no arguing. He knew he'd done wrong straight away. I've never seen anything like that before. Alan Pardew was been in the game long enough, he's not a new manager. Sitting down? He'll be sitting down in the stands for a long, long time.
Phil Thompson - This is gross misconduct
He knows he has done wrong. We've seen the interview and he knows he's done wrong. Now it's a big call. He has won the game, but imagine if it had gone against him. Let's get this right, Meyler should not be pushing the opposition's manager with respect to him - but that doesn't mean Alan Pardew can go and do what he's done. He did push his head into Meyler's face. What goes on after this? What do his bosses see in him? He's got a massive contract there. This is, if you want, gross misconduct - and it's how they see it and how the FA see it. They could throw the book at him in big, big ways. I know Alan is saying he is going to sit down and you do get a rush of blood. It is heated down there and you sometimes cross the line. He's crossed it and he may have to pay the price.
Charlie Nicholas - This is a new level
I think the FA will be sharpening their pencils right now, I really do. He's been caught up in a few incidents this season. We've seen Mark Hughes throw a coat down, Gus Poyet the same, Arsene Wenger kicking a bottle and they all get punished, they all get banned. This is a new level. He has pushed the line for aggression. He is a very experienced coach and he has been caught up with this reputation. He has pushed a linesman before and they will be looking at him and thinking 'surely you've learned your lesson at your age and with your experience?' it doesn't seem as if he has.