Back with a bang
Morecambe's Jack Redshaw talks bouncing back, learning curves and goal targets with Chris Burton.
Last Updated: 27/05/13 11:51am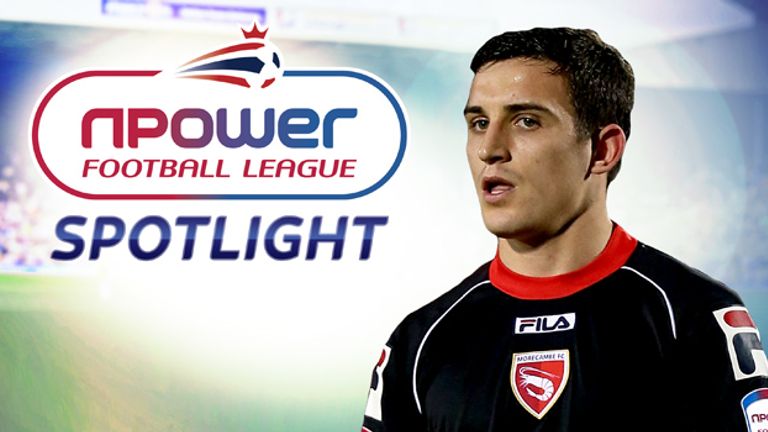 The 2012/13 campaign is about to enter the final straight, with promotion pushes and relegation battles now in full swing.
Here at Sky Sports, we continue to take you to the very heart of the Football League, with our Spotlight features intended to give you a greater insight into the clubs and players that keep us on the edge of our seats.
We are hoping to bring you the views and thoughts of a representative from each of the 72 teams over the course of the season, with those involved asked to give their take on the division they compete in, the club that pays their wages and those we should all be keeping an eye on.
Next in our hot seat is Morecambe's Jack Redshaw, with the Shrimps striker taking time out to discuss bouncing back into the League, learning curves and goal targets with Chris Burton.
What are the ambitions at the moment, with the club stood solid in mid-table?
Like you say, we are a mid-table team at the minute, but we have had a few good performances and a few bad performances. We just need to turn the bad performances into good performances, pick up a few points and move up the table. I think we are doing alright with the budget that we have.
Is a top-half finish all you can really aim at now?
Yeah, I think the play-offs, after the defeat against Barnet, is not an option now. We just have to try and finish as high as possible. Finishing in the top half would be great.
You were knocking on the play-off door not all that long ago, but you just haven't been able to string four or five positive results together all season have you?
We just need that consistency to get in the play-offs, and I think that's what most of the teams that are in the play-offs have got. Against Barnet, we had a few good results leading up to that game and then that just knocked us again.
But the club finished 15th last season, so I suppose anything above that is progress isn't it?
Of course. You like to build on the season before, and I think we've done that. Anything in the top half would be a great season for us.
The club are doing things in the right way aren't they, with Jim Bentley a man who knows the club inside out? You need that stability don't you?
Course you do. The gaffer played there for 10 years, nine or 10 years, and he knows the club inside out. It's a good, stable club going in the right direction. It's a good place to be.
And for the young lads like yourself, I imagine it is a big help having people like Jim around isn't it?
Not only Jim, there are quite a few experienced players in the team. Obviously Kevin Ellison, Nick Fenton, Will Haining, there are some experienced heads in there and they help to guide the young lads along.
I take it you must be delighted with how things have gone for you in front of goal this season?
I feel like I have had a good season. I scored my 14th goal the other day, 13th league goal, and I feel like I am doing well. I think I have the right players around me to provide me with the chances to score goals.
Did you always believe that you could score goals at a League level?
Yeah, I have always believed in myself, it's just doing it. I feel like I am doing it this season.
It can be tricky can't it when you are forced to drop out of the League to get noticed and earn a move back in?
Of course it is. When you go out of the League it is hard to get back, but you just need to keep your head, concentrate and hopefully get your chance. That's what I've done at Morecambe, they've given me my chance and have been good to me.
You spent so long on the books at Man City, do you feel that was a great experience for you or one that maybe ended up preventing you from progressing as quickly as you would have liked?
Obviously my 10 years there was a great experience. The professional year I did there was the best time of my life, being surrounded by all of those players and the facilities that they have. It's different class. Then when you get told you aren't going to be kept on, it knocks your confidence a bit. But moving to Rochdale and going out of the league has only made me, thinking back, a better player.
Taking one step back to take two forward is never a bad thing is it - it makes you more hungry if anything?
It does. I played in non-league and it just gives you that determination that you never want to go back there again. You are aiming to play as high as you can and the Football League is obviously a better standard than training a few times a week and playing on Saturdays - part-time football.
You are only 22, so I imagine you have aspirations of playing at a higher level don't you?
Every player wants to play as high as they can. Being at my age now, obviously I would like to play higher.
And I imagine there are a few lads at Morecambe aren't there who fancy their chances of competing at a higher level at some stage in the future?
Yeah, I think it's in the back of every young lad's mind. Obviously we have got a few young lads that have come in and done really well. I would say that they would think that as well.
Who has impressed you at Morecambe this season? Who deserves plenty of credit for their efforts?
This season, I think Kev's (Ellison) one of them, he has done really well again. I think he has got 12 goals and is always a threat. Ryan Williams has done really well since he has come in. He's another young lad, 21 he is, and he has been given his chance and done well.
Finally, are you setting yourself any targets for the remainder of the season?
At the start of the season, it was my first full season in the Football League, I set myself the target of double figures. When I achieved that, I set it to 15. Now, with eight games left, I am only one away from that. I actually spoke to the gaffer and he said he wants another four goals from me this season, so that's four in eight games and that would leave me with 18 at the end of the season. If he's happy with that, I would be happy with that as well.