Morecambe masterplan
Morecambe Football Club have come a long way in a short space of time and they have no plans to stop now, as Sky Sports' Pete O'Rourke found out.
Last Updated: 25/10/13 9:46am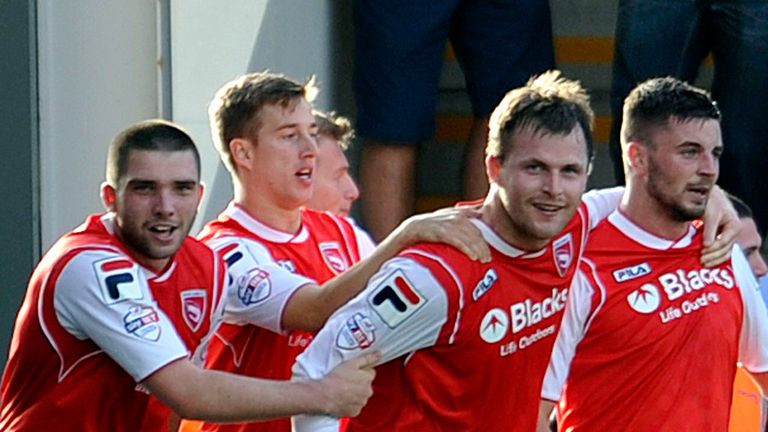 In the last six years there has been a major transformation at Morecambe, the club won promotion to the Football League for the first time in their history and moved to a new ground - the Globe Arena.
The Lancashire outfit has faced many battles in its history, but things are looking up for the club with Jim Bentley's young side riding high in League 2, sitting just four points off the top of the table.
Morecambe are one of the form teams in the country, losing just one of their last 10 games having taken 21 points from the last 30 available, while they also dumped Wolves out of the Capital One Cup and ran Premier League outfit Newcastle all the way before going down to two late goals.
Bentley is now in his third season in charge of the Shrimps, having taken over from Sammy McIlroy in May 2011, and the 37-year-old is helping build an exciting side, with his faith in giving young players the chance to develop paying off on the pitch with some impressive results.
Bentley has led Morecambe to consecutive mid-table finishes in the fourth tier, battling against the odds with low attendances and a comparatively small budget to keep the Lancashire club in the Football League, and the club are determined to continue to make progress on and off the field.
Bentley was rewarded for with a new contract earlier this month to keep him at the Globe Arena until the end of the 2015/16 season to illustrate the faith the club's hierarchy has in the former Shrimps captain.
It is a real team effort at Morecambe, from boardroom to dugout, and everyone knows where they want to take the club, but they accept it won't happen overnight and is very much a work in progress.
Blueprint
Morecambe director Mark Mace cites the example of Crewe Alexandra as a club they are trying to emulate and admits there are three core objectives for Bentley to achieve to help the club develop.
He told Sky Sports: "I believe there are three core objectives that we as a club set the manager to achieve and they are:
1) Keep us in the Football League as it is vital for sponsorship.
2) A desire from the manager to go on an occasional good cup run as due to the low turnover at the club the financial benefits make a world of a difference to the budget.
3) We want the manager to develop a strong squad and scout and develop young players.
"I think if you look at someone like Crewe, they are the blueprint that most smaller clubs should be looking at to follow. They have developed their own young players throughout the years and then sold them on for a healthy profit and that in turn has enabled the club to remain a sound financial footing.
"I work closely on player contracts and our ideal business plan would be to develop our best young players and maybe once every two years sell one of the players. It would help bring much-needed funds into the club."
Mace admits much of the club's progress this season is down to the influence of Bentley and he believes he has a bright future ahead of him as a manager.
"Jim has only been managing for three seasons, but everyone at the club is excited by Jim," added Mace.
"He is a young, innovative manager who is always constantly looking to improve and I believe he will develop into a top-class manager.
"I have never known anyone who works as hard as Jim, he is always scouting players and watching games and he ticks so many boxes as to what you want from a manager.
"He is close to the players and the lads would walk over coals for him.
"Jim has been forced within tight restraints as the player budget has been cut, but he has been able to produce a vibrant, young team that is getting results and we are delighted with that.
"He has given young players the chance to develop and we are less reliant on old pros who have been forced to come down the leagues at the end of their careers.
"Jim fully understands where we want to take the club and he knows it is a long-term plan and if it comes off it will be great for everyone."
Bentley had the reputation as a hard-working, no-nonsense defender as a player, but behind his pugnacious exterior is a sharp mind of a forward-thinking manager who is keen to develop himself and the players that he comes in contact with.
Bentley insists Morecambe's success this season has been built on the team unity that has been developed among the squad.
"We have an unbelievable spirit at the club, the best I've seen it since I've been there. Right from the first day of pre-season the group have bonded quickly and shown a desire to work hard for each other," Bentley said.
"This has been typified by how many times we have come from behind this season to take points from losing positions.
"They have a great will to win and determination to do well as a team, a never say die attitude. The lads come into training every day and it's a happy environment, they have a great togetherness and work hard to improve as individuals and as a team and they would run through brick walls for each other.
"There are no big egos in the dressing room and we have a nice blend of youth and a few experienced heads. Kevin Ellison, Stewart Drummond, Barry Roche and Chris McCready are the over 30s of the squad and they are fantastic professionals, great around the young lads and guide them very well on and off the pitch."
Working on a shoe-string budget, Bentley admits a lot of hard work goes into the scouting of potential signings and that they take great satisfaction in helping develop young players.
"We aren't blessed as a club to go out and pay transfer fees and get the best players at our level, the proven players with the experience of league football, we can't compete with other clubs to match these players wage demands even if we could get them for free," added Bentley.
"So we look to bring young, hungry, unproven players into the club and hope to develop them into good, solid Football League players of the future.
"Myself and Kenny McKenna (assistant manager) go to a lot of Premier League and Championship youth/reserve team games and many non-league games at different levels.
"Some of the players we have brought to the club have come from these backgrounds and have improved and are now key players for Morecambe.
"Last season's top scorer Jack Redshaw we got from Altrincham, Ryan Williams was at Rhyl in the Welsh League before we signed him, he scored the winning free-kick v Wolves in the Capital One Cup earlier this season.
"Others like Alex Kenyon (Stockport) Tony Diagne (Macclesfield) and Andy Fleming (Wrexham) have all made the step up to Football League level and have bright futures in the game.
"Jack Sampson is an ex-England U19 international who was released by Bolton in the summer and now he's Morecambe's No.9, has scored his first ever Football League goals and is looking to get back up the footballing pyramid again like the others, with a hunger to succeed in the game.
"Added to the group are captain Mark Hughes (26) and vice-captain Andy Wright (29) who are very experienced, solid, trusted professionals who lead the group very well."
Despite their success this season Bentley is adamant that everyone at the club from top to bottom is focused on improving on and off the pitch to try and achieve the best results.
"The EPPP youth system was set up last season and the academy set up at the local Morecambe & Lancaster college has produced players in the past. Both set ups continue to progress with quite a few under 19's being involved in match day squads on numerous occasions this season," continued Bentley.
"We've improved the sports scientist department of the club over the past few seasons, with the hard work of club physio Simon Farnworth and firstly Danny Birdsall (who left in the summer to become first team head of strength and conditioning at Bolton Wanderers FC) and now the new sports scientist Chris Squirrell. Again, results in power, speed, endurance etc are on the up season on season.
"We have a small group of hardworking, dedicated back room staff, who all work very hard to maintain and improve the players at the football club in all departments.
"Club legend Stewart Drummond, who is still very much a player, doubles up as reserve team manager and is key to passing on his experience and knowledge to the younger players around him.
"Everyone is pulling in the right direction and so far this season so good, but we were favourites before a ball was kicked in August to be relegated. Low attendances and playing budget makes it hard for us to compete against some big clubs at this level, but over the last couple of seasons progression has slowly been made on and off the field, whilst living within our means.
"The youth system has gone from strength to strength, the improvement of training facilities at the local Morecambe high school continues to improve our working environment and the club have put into place many plans for the short, medium and long-term future to help the football club grow season on season."Bentley, who is in his first managerial role, is thankful to the club for giving him the chance to take his first steps into management and has vowed he will give his all to be successful against all the odds.
"I realise I'm in a very fortunate position as a Football League manager and will always be grateful to my chairman and board of directors for the fantastic opportunity I have been given," he said.
"I like to think that as a player and captain of the football club, I always gave my all and that is exactly the same case now as the manager.
"I insist this is the case with the backroom staff and we instil this every day into the players. I expect them to always give it their all in every training session and every single time they step over that white line on match day.
"There is a belief and passion that anything is possible in football, the harder the challenge, the greater the reward.
"Nothing is achieved by individuals, there is a big emphasis on team play within Morecambe FC and everyone within the club are pulling in the same direction.
"We will try our very best to continue our good work and the sign above the changing room door says the words "Together we are winners" this is a must and will continue to be the case in order for us all to reach our goals."