Ronaldo to extend?
Guillem Balague answers YOUR questions on Ronaldo, Fabregas, Malaga and Atletico Madrid.
Last Updated: 10/09/12 3:33pm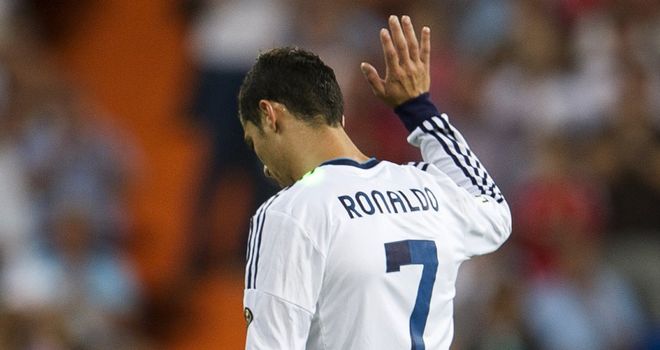 With the international break there is no La Liga action to reflect on so Guillem has taken the chance to answer some of YOUR questions.
Remember you can always get in touch with our Spanish football expert for the inside line on life in La Liga, the big stories affecting the Spanish sides and his verdict on players who could be trading the Primera Liga for the Premier League.
Got a question for Guillem? Then send it in here or use the feedback form below, and then look out for his answer next week.
RONALDO LATEST
Hi Guillem, A lot has obviously been made of Cristiano Ronaldo's apparent sadness at Real Madrid, with plenty of speculation about his future? What is the latest news as you know it and how do you think the saga will end? Thanks, Mark Burlsfield (Real Madrid/Tottenham fan)
GUILLEM SAYS:The latest is that when he comes back from Portugal he'll have a meeting with Jose Mourinho; the Managing Director Jose Angel Sanchez; and Florentino Perez and there will be talks about it. Clearly the idea here is he wants another contract. He doesn't think being the sixth or seventh best paid player in the world is what he deserves and doesn't like the way the club has treated him - at a recent UEFA awards ceremony only a third-rate director went with him, while Lionel Messi was surrounded by the top guys at Barcelona. There's other stuff, too. He made a public statement that said it had nothing to do with money - but the amount you're paid reflects the admiration of the club. A new contract will be drawn.
CESC STRUGGLING?
Buenas Guillem! Interesting column as always. My question is simple: Can you see Cesc back in an Arsenal shirt in the future, either through his own will or Barcelona's desire to sell? I recognise that the club invested a great deal of time and money to acquire Cesc, but how can a captain of Arsenal and such a special character be on the bench so often? To me it seems he's missing the love he felt at Arsenal. Oliver Salkind (Arsenal fan)
GUILLEM SAYS:Cesc had problems last season when Pep Guardiola asked him to do a series of things he didn't have in his hard drive. He was brought up at Barcelona but for seven or eight years at Arsenal he played as he wanted and the team played around him. When he came to Barcelona he had to be disciplined tactically and that didn't come naturally. Tito Vilanova is continuing that process. Because he hasn't scored for 20 games people worry but if you see his positioning he stills creates chances. As soon as they start going in you'll see a different Cesc. The problem Cesc has is he has got to play as one of the three in the middle and in there Barca have the three best players in world.
MALAGA TO TOP MILAN?
Hi Guillem, Malaga have had a surprisingly good start to the season and are grinding out results. They were handed a relatively kind draw in the Champions League despite being fourth seeds, with Milan being one of the weakest teams in pot one after losing their star players. Do you think Malaga can progress from the group and if so how far can they go? Or is a third place finish for the Europa League the best they can hope for? Conor Jones (Leeds fan)
GUILLEM SAYS: Malaga have found themselves in a situation where the group dynamic changes completely because, all of a sudden, everybody feels closer because they're not getting paid and they're fighting against a very difficult situation. The positive spin is being thrown from the club. The owner, Sheikh Abdullah Al Thani, has left someone in place to rearrange the structure of the club. That basically means they are not going to become the Malaga everyone expected - a Malaga to challenge for the Champions League and keep signing players - but one to work with what they've got.
If they can earn enough money to pay the wages they'll be a top six, top eight team, which is a jump from what they were, but obviously not what Al Thani was talking about. He's put more than 100m Euros into the club and he's seen football doesn't give you the money back, although he's won friends in the process which allow him to develop his businesses in the area. It's a situation you could have predicted.
In terms of their quality, they've got a good XI but then their quality drops, Milan have got a better squad. I think Malaga will fight Milan for the second spot behind Zenit, but I think Milan have enough experience and quality to make it into the top two. But the Europa League won't be a bad thing for Malaga.
MODRIC OR MESUT?
Hi Guillem, Do you think Jose Mourinho can play Luka Modric and Mesut Ozil in the same team? Ozil is more dynamic so can he pay on the wing with the more tactically-minded Modric in the middle? What do you think? Tomas Rosario (Liverpool fan)
GUILLEM SAYS:Modric has never played in the Ozil role, except as an under-21 for Croatia. He's a central midfielder and he keeps saying that, so that's going to be interesting. You could see in the game at the Santiago Bernabeu that he wanted to drop a little deeper and Xabi Alonso kept telling him to move forward to the next line of players, in the Ozil role. As you say, Ozil is more dynamic, goes wide and understands the role better. Modric is another passer in the midfield and will open up defences but in that role Luka Modric is going to have to learn. In big games I think it will be Ozil and not Modric who plays in that position.
ATLETICO MAGIC
Hi Guillem, I love watching La Liga and one team which have impressed a lot is Atletico Madrid. They destroyed Chelsea in the Super Cup final and I think that Diego Simeone is destined for great things, how far can you see him going in management? David Fullam (Liverpool fan)
GUILLEM SAYS:When Atletico plays that way they are difficult to stop - but they don't do it that often in Spain, partly because it's a team that suffers from different layers of ambition; some players are very good, others are more modest and there doesn't seem to be a football plan behind what Atletico do each year. Players come and go, opposition to people in charge will tell you those in charge see it as more of a business than a football club.
But also teams know how to play Atletico Madrid in La Liga. It happens a lot with English teams, they just don't know how to play certain teams, as if it was enough to be an English team coming onto the pitch and to play their way was enough to win. Sometimes you have to be humble, like Chelsea were in the Champions League last season or tactically clever as Liverpool were in 2005 and 2007. You don't always find that in the Premier League and I think that is why Spanish teams have such a good record against English teams over the past ten years.
THREE RISING STARS
Hi Guillem, Spain look to have three fantastic attacking players in Real Madrid's Jese Rodriguez, Barcelona's Gerard Deulofeu and Atletico Madrid's Oliver Torres. I was wondering what your opinions are on the trio - what are the chances of them getting first-team opportunities this season and how good could they become in the future? Thanks, Shane Farrington (Man United fan)
GUILLEM SAYS:Jese has been compared to Ronaldo. He has to mature and grow - and he'll never be as good as Ronaldo - but he can be a very good player. He has to show his worth and keep at it, I just hope he isn't confused by the fame and hype, which is sometimes what happens with these players.
Deulofeu is a star and will definitely make it into the first team at Barcelona. I'm convinced about that and have been for a few years. Again, he'll have to adapt to his new situation and mature mentally to reach the next level.
Torres has got the Fernando Torres problem, if you like. There are high expectations for him at a club that needs a hero. He's got lots of talent and lots of quality and is more direct, the kind of player Madrid need now.
All three players are fantastic. I'm sure Torres will have chances this season, I'm sure Deulofeu will have some next season - but Jese's problem is that if you want to be Ronaldo, Ronaldo is there already. There's lots of hope for him, but it's still early.
CARVAJAL OUTCAST
Hi Guillem, Just a few questions on Daniel Carvajal who recently moved from Real Madrid Castilla to Bayer Leverkusen. How do you rate him? Is he good enough to play for Real Madrid's first team in 1 or 2 years' time? Does Jose Mourinho rate him highly? Thanks, Manish Pillai (Real Madrid Fan)
GUILLEM SAYS:They sold him to Bayer Leverkusen, with a buy-back clause as part of the deal. At the moment Alvaro Arbeloa doesn't have a sub and Madrid were looking for right backs until the last day of the transfer window, but they didn't find anybody good enough at the right price. I don't think Mourinho wanted to keep him particularly.
Keep your questions coming in and don't forget to follow Guillem on Twitter: @GuillemBalague