Special times ahead
Guillem Balague explains why Real Madrid will stick with Jose Mourinho for at least one more year.
Last Updated: 29/04/11 11:00am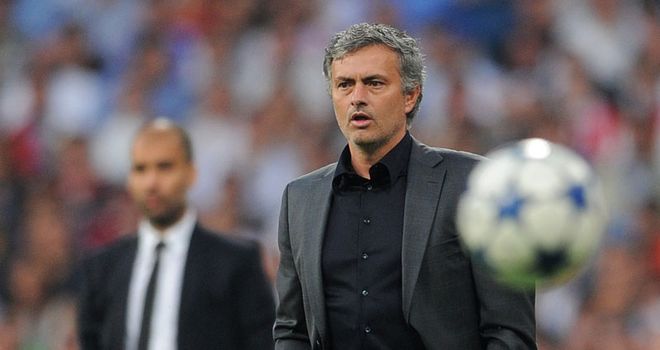 The play-acting and faking of injury in this week's El Clasico was very disappointing indeed.
Sadly though, the Spanish press hasn't dealt with the issue at all - they prefer to see it as part of the tension and the atmosphere created by the managers before the game.
They've overlooked the fact that the players' poor behaviour placed a lot of pressure on the match officials and given some people in England the excuse to say 'look, the mask is off - that is Spanish football in its true light', an accusation that is unfair.
To suggest as much not only takes the gloss of Spain's achievements in the World Cup and the European Championships, it also denigrates the successes over the last two years of Barcelona, who look as though they are going to reach another Champions League final, and the entertainment provided in domestic games such as Real's 6-3 win over Valencia.
Belief
Despite Real's 2-0 first leg defeat on Wednesday, there is a strong belief at the club that Jose Mourinho remains the right man to lead them forward.
That's because there is much more of an acceptance that the side cannot equal Barcelona at this point in time. The emphasis instead is on putting together a side that can in the future.
The target before this season began was to win trophies and, if not, to at least look like they could. By winning the Copa del Rey and reaching the Champions League semi-finals they have achieved both of those goals.
Hardened fans are far more pragmatic than they used to be about Real's prospects and there is a genuine belief that Mourinho's approach remains the right one.
Foundations
That may seem odd following a game in which Real managed to have only 27 percent possession, but had the team come out of Wednesday's game with a 0-0 draw that generally would have been perceived as a good result.
In a sense what matters for the remainder of the season no longer matters because the focus now is building firm foundations for next season.
Sure, Florentino Perez would prefer Mourinho to adopt a different attitude in press conferences but it would appear he has largely given up hope of achieving that now.
It seems clear that Mourinho will spend at least another year at Real Madrid and, if the club manages to make some astute signings, it could be a hugely successful year.
Guillem answers your questions...
Got a question for Guillem? Then send it in here or use the feedback form below, and then look out for his answer next week.
TAXING TIMES
Hi Guillem, I'm a huge Tottenham fan and it is certain that we need a top-class striker in the next window. I know that we tried to sign the likes of Llorente, Rossi, Negredo and Aguero so I was just wondering will we go back in the market for one of them to lead our line next season? Personally I think that Llorente would be the best option and I have also heard how Man Utd and possibly Real Madrid are interested in him. So who may Spurs be looking at come the summer transfer window? Jack Bagley, Gravesend
GUILLEM SAYS: The problem with Llorente, Jack, is that he is going to cost 35m Euros plus VAT. If there is no agreement between the clubs about who pays the VAT, the player can end up paying it himself. The club that buys the player will give that player the money. Either way it ends up being very expensive. If I were you I'd keep a closer eye on Osvaldo of Espanyol, who is valued at 15m Euros, because there is a lot of Premier League interest in him.
DEBT OF GRATITUDE
Hi Guillem. I was wondering if you knew the situation with Valencia's finances this season. Much was made of how bad it had become last season, resulting in their top players being sold. Will they need to do the same this year? Apart from maybe Mata and Banega they don't have players who will command significant transfer revenue. I do feel however that Unai Emery has done a fantastic job with the players hes brought in and although they may not be as attractive to watch as last year, they are much more solid and remind me more of the championship winning days. Will he get a contract or do the management still not have faith in him? Steven Phillips
GUILLEM SAYS: Hi Steven. Valencia don't need to sell players right at this moment. It's trued that the club owed around 45m Euros last season but they have paid off most of it now, so their debt is much more manageable. Naturally players will come in and out of the side in the coming months because certain members of the squad proved a disappointment at key stages of the season. The emphasis will be on finding some players with strong personalities; that's what Valencia need right now.
REDS READY
Hello Guillem. As I am sure you read in the papers this week my left back Jose Enrique is apparently all set for a summer move to Liverpool. Now I was just wondering if you could clear that up for me also I have heard of him being linked to Manchester Utd, Tottenham and Barcelona what I wanted to know is would he fit in at Barcelona and do you think he is good enough for them? John Durham
GUILLEM SAYS: Jose Enrique is attracting interest from English clubs, not Spanish clubs, John, and yes - Liverpool is one of them. There are question marks on the part of Liverpool's scouting team about his defending but time is on his side and he can improve that area of his game. He would be a great signing for Liverpool, I've no doubt.
INTER INTO KAKA?
Hi Guillem. I have a few questions regarding KAKA. Is there any chance of him staying at Madrid beyond the summer? I also would ask if theres been any hints on whether Mourinho likes him enough as a player to consider dropping any of his current starting 11 in order for KAKA to work his way back in to the first team? If not, would there be any possibility of Real even deciding on cashing in on him this summer whilst his value doesn't decline due to age? Kane
GUILLEM SAYS: If Milan come back for Kaka, Jose Mourinho will gladly sell him. We'll have to wait and see if they are still interested, Kane. The fact that Kaka went to Brazil two days before the Barcelona game because of the birth of his daughter confirms to me that Mourinho isn't that bothered about. He could have been a very important part of the tactics against Barcelona, coming on in the final 15 minutes or so, but it seems as though Mourinho feels that is a role that other players will be able to fill in the future.