Different sprawl game
Guillem Balague says it is wrong to say that supposed cheating and diving only happens in La Liga.
Last Updated: 06/05/11 12:26pm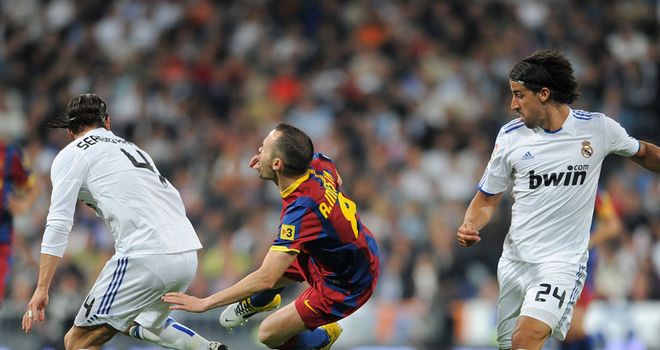 There is still a lot of debate about supposed cheating and diving in Spanish football.
Many people who don't follow La Liga used the first leg of the Champions League semi-final between Barcelona and Real Madrid to generalise very dangerously about Spanish football; some people went even further to comment on the Spanish culture.
While I agree that some of what we saw in that match - a huge derby with massive consequences - was disgusting and embarrassing, a lot of what happened is widespread throughout football, by which I mean in Italy, Germany, England and beyond.
That doesn't excuse it, but it should broaden the debate.
I've read that in England only the captain is allowed to approach the referee, but countless times I've seen more than three or four players take matters into their own hands.
These aren't isolated incidents either, which suggests problems surrounding player behaviour are not peculiar to Spain alone.
I'm fascinated by how wound up people in England get about diving and faking injury.
In Spain, a bit of that is considered clever - it is part of the culture; most of the time, though, I agree it is embarrassing.
Just as the first leg attracted a lot of criticism in England, so it did in Spain too. Players aren't allowed to get away with it and we saw fewer antics in the second leg.
In Spain, people seem to get more wound up when their team can't string more than three passes together.
At the end of the day it comes down to different countries with different cultures. I'll be exploring this issue in greater depth in the coming weeks because it really interests me.
Guillem answers your questions...
Got a question for Guillem? Then send it in
here
or use the feedback form below, and then look out for his answer next week.
CITY LOCATION
Hi Guillem, I am a Scotland fan and will be travelling to Spain in October for the Spain v Scotland game. You are obviously aware that Spain do not have a national stadium and move their games from city to city. I have been told that cities bid for games and if this is true, do you have any idea who is bidding for the game or where the game will be played? Thanks, John Findlay
GUILLEM SAYS: I'm sorry to say, John, that there is no decision yet on where that game will take place. What tends to happen is that the Federation makes a deal to stage matches like this with the people they owe favours to. They may well end up playing the game in a stadium like Granada, for instance, because it has the added benefit of taking the national team to a different part of the country.
DAVID'S DILEMMA
Hi Guillem, I was wondering if Manchester United's pursuit of David de Gea has progressed? Atletico Madrid's President Enrique Cerezo has recently confirmed that the club has made the player an offer for a fresh contract and, as it has seemingly been for a while, it all rests on the player's choice. Also has the Spanish goalkeeper agreed a deal for Jorge Mendes to be his agent from the summer onwards (same agent as United's Nani, Anderson, Bebe and Real's Cristiano Ronaldo and Jose Mourinho)? Finally is the player any closer to making his next career step? Shane Farrington
GUILLEM SAYS: Everyone remains very patient with de Gea, which can only be right as he has a big decision to make. His current contract with his agent expires in either May or June, depending on who you believe, so the race is on for his signature. At this time I believe Mendes is the frontrunner of a group of agents that are after him, but the player has yet to make a final decision. Manchester United have spoken to de Gea and everybody is now waiting for his decision. All I can say is be patient, people!
TAXING TIMES
Hello Guillem, I am an avid watcher of Spanish football, absolutely love the column and love the sky sports coverage! I keep hearing you saying that Mourinho at Madrid already has two new signings lined up for the summer, but my question to you is who are they? I can't imagine them keeping hold of Emmanuel Adebeyor with the likes of Higuain and Kaka recently returning to full fitness, as they already have such a wealth of attacking options. Where do you think they are going to strengthen? And with what players? James Hickling
GUILLEM SAYS: Hi James, as I've already mentioned on Twitter (@GuillemBalague) and my webpage, José María Callejón of Espanyol is one, as is Nuri Sahin of Borussia Dortmund. In the case of Sahin, the clubs have negotiated a deal and the player will make a decision over the weekend. At the moment Adebayor has been told that no decision has been made about his future; we'll have to see if he keeps putting the effort in, but so far it's been so far, so good for him. Kaka and Benzema, though, will be put up for sale