Juventus assistant manager Angelo Alessio has targeted a win over Chelsea in the next round of Champions League games
Juventus assistant Angelo Alessio knows his side must beat Chelsea to make the Champions League last 16.
Last Updated: 08/11/12 1:13pm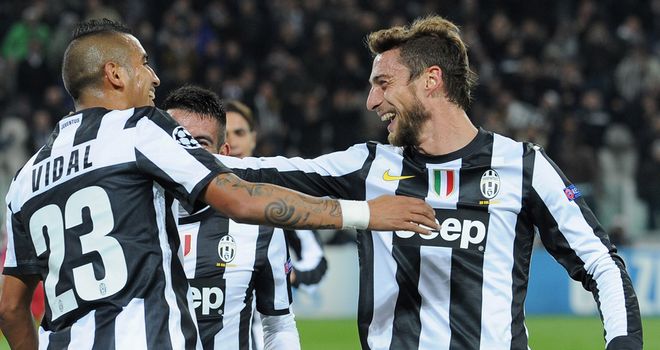 It was an evening of firsts against FC Nordsjaelland on Wednesday as Claudio Marchisio opened his European goalscoring account within six minutes, leaving Arturo Vidal, Sebastian Giovinco and Fabio Quagliarella to wrap up a comfortable 4-0 win, Juve's first in the competition for three years.
The Bianconeri are now just one point behind Chelsea and Shakhtar Donetsk - who are tied for top spot on seven points apiece - with the European champions next up at the Juventus Stadium.
Alessio told Juve's official website: "We wanted this victory and gained it through plenty of anger.
"We took to the field with determination, created a great deal and scored four goals.
"Now we'll need to beat Chelsea and give it a good go against Shakhtar in order to continue our Champions League adventure."
Marchisio was disappointed to see Chelsea end up 3-2 victors over Shakhtar in an end-to-end match at Stamford Bridge.
The midfielder added: "A 2-2 draw would have been better for us, but we required a victory and that's exactly what we got.
"Our ambitions haven't changed, we'll give it a good go against Chelsea, knowing that we've also got the Shakhtar game remaining.
"However, we want to go through. I'm happy about scoring my first goal in Europe, but above all for the result itself."
Veteran goalkeeper Gianluigi Buffon was rarely tested but eventually had his palms warmed by a Patrick Mtiliga effort midway through the second half.
The 34-year-old keeper said: "I got the gloves dirty, but it was a standard save. If I didn't make it I should think about retiring.
"Little has changed in reality. We Italians are inclined to look at the results of others and consider them to be more important than our own.
"Instead, the good thing is that we're two games away from the end of the group stage and our destiny remains in our hands.
"If we do well we'll go through, otherwise we'll play in the Europa League.
"Chelsea have almost a decade's worth of experience in playing these types of games.
"Shakhtar, with their individual brilliance combined with their team play, are more unpredictable and a tough prospect to face."
Juve defender Leonardo Bonucci added: "It's a tough group but we're determined to go through.
"Shakhtar gave us difficulty in the first game with their retention of the ball, while Chelsea are blessed with great champions.
"However, we need to take each game as it comes, beat the Blues and then get a result in Donetsk. We'll go into every game with the aim of winning - we are Juventus."