Sassuolo striker Domenico Berard is being monitored by Premier League clubs
Sassuolo striker Domenico Berardi's agent claims Manchester City are interested in the teenager.
By Simone Bargellini
Last Updated: 15/11/12 8:14am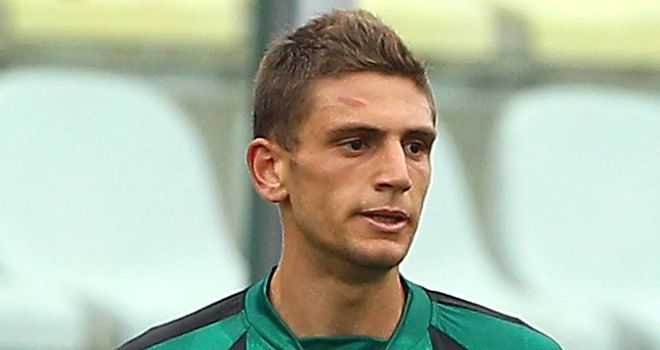 The 18-year-old has impressed in Serie B this season, scoring three goals in 10 appearances, to reportedly turn the heads of some of Europe's heavyweights.
His agent, Giuseppe Galli, says City have joined Serie A clubs Juventus and Roma in the race for Berardi's signature and revealed all three clubs have sent scouts to watch him in action for Sassuolo.
"Juventus, Roma and Manchester City seeking Berardi? These are not rumours - this is real interest," Galli told tuttojuve.com.
"During recent weeks these clubs have sent observers to see Sassuolo's matches on many occasions.
"Manchester City's scouts have often come from England."
Sassuolo's general director, Nereo Bonato, insists there has been no contact with any clubs but says Liverpool and Southampton have requested to attend matches.
He told calciomercato.it: "We have received accreditation requests to view our games in recent times from English clubs such as Liverpool and Southampton.
"But it is too early to talk about the market so there has been no contact with any club."
Qualities
Bonato is hoping to keep Berardi, who has also been linked with Manchester United, at the Serie B club until at least the end of the season.
"Berardi has important qualities and certainly he deserves attention, but I think the guy has yet to grow and that Sassuolo is the right place for him to do it," he added.
"We would like to keep the whole team until the end of the season, then in June we'll see."