Serie A leaders Juventus host AC Milan on Sunday,
Antonio Conte has warned his Juventus side not to take AC Milan lightly in Sunday night's Serie A clash at the San Siro.
Last Updated: 23/11/12 9:07am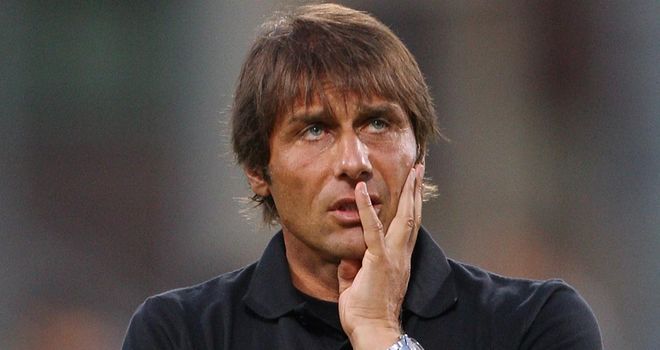 The Turin club are four points clear at the top of the Serie A table and travel to the San Siro to take on a Milan side struggling in 12th place.
"Sunday we will play an important game against a team that are currently not around the top of the standings, but have great quality," Conte told the club's official website.
"We are first in the standings, but remember that we have not done anything."
Midfield playmaker Andrea Pirlo is equally wary and determined that his side emerge victorious.
"It's a special game as far as I'm concerned," he said. "We know we've done well up until now and that Milan have had a few difficulties, but we just want to remain focused on ourselves."
Juventus should have Giorgio Chiellini fit for the clash after the defender complained of a leg injury following their 3-0 win over Chelsea.
"It 's only a hardening of the calf should not be anything serious," he said. "Two or three days of rest and I should recover for Sunday.
"Winning helps you win. And to win a big game like against Chelsea puts you in such a mindset that we could take the field immediately, without waiting for Sunday night.
"The game against Milan is always a great challenge that we will prepare for as best as we can. "
Milan boss Massimiliano Allegri saw his side qualify for the knockout stages of the Champions League last night after they won in Belgium against Anderlecht, but in the league they have not been as successful, already registering six defeats.
"Sunday will be a fascinating game even if we're so far from Juventus," said the boss. "They're the strongest team and that's where we want to be."
Palermo and Catania meet on Saturday in the Sicilian derby with the former struggling, level on points with third-bottom Pescara.
In contrast Catania are seventh and Palermo chief executive Maurizio Zamparini admits his side are the underdogs.
"Catania are currently stronger than us, has proven experience," he told Sky Sport 24.
"It is the first time since I've been to Palermo that we start at a disadvantage."
Matches on Sunday see Pescara host Roma, Sampdoria take on Bologna, Fiorentina travel to Torino and Atalanta play Genoa.
The other game on Sunday sees Chievo host Siena, while on Monday second-placed Inter Milan travel to Parma, after Cagliari entertain Napoli in the early evening kick-off.
On Tuesday night, Lazio host Udinese at the Stadio Olimpico.