Serie A: Juventus coach Antonio Conte has received a two-match touchline ban
Antonio Conte has received a two-match touchline ban after his angry outburst in the wake of Saturday's draw with Genoa.
Last Updated: 28/01/13 5:33pm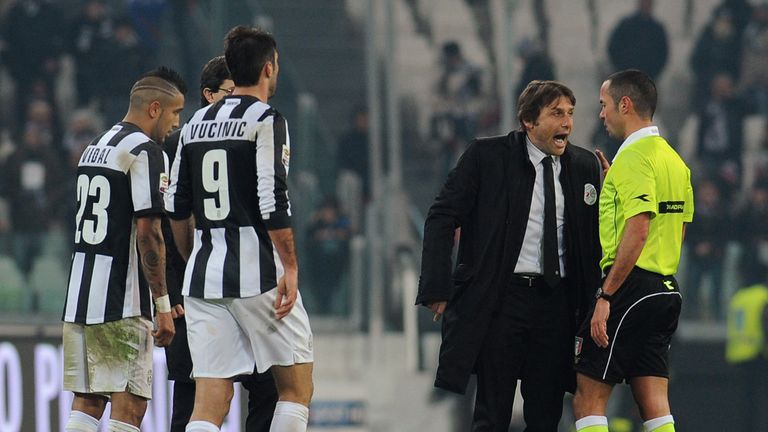 The 43-year-old directed a furious tirade at referee Marco Guida when the official declined to award a stoppage-time penalty for a perceived handball by Genoa defender Andreas Granqvist, with the game finishing 1-1.
Director general Giuseppe Marotta also invoked a three-week suspension by questioning Guida's selection, given the fact the referee hails from Torre Annunziata, a province of Naples, whose Serie A team are Juve's nearest challengers.
A statement published on legaseriea.it read: "Antonio Conte is disqualified for two games and fined 10,000 euros for confronting the referee with insulting remarks at the end of the game and repeating them in the changing room shortly afterwards.
"Giuseppe Marotta is banned from pursuing any activity with the Italian Football Federation (FIGC) or representing his club until February 18 for challenging the work of the officials and addressing the referee with an intimidating attitude and insulting remarks."
At the end of the game, which was settled by goals from Fabio Quagliarella and Marco Borriello, Conte appeared to shout "shame on you!" at Guida from close range, just moments after the official had rejected Juve appeals for a penalty.
Conte went even further in his post-match press conference, suggesting Guida had acknowledged the foul but had instead declined to award the spot-kick.
"When I hear certain things, 'shame' is the least I can say," Conte said.
"(The goalline official Andrea) Romeo said it was a penalty. But Guida explained that he didn't feel up to awarding it.
"I've had enough. I can accept a mistake if someone tells me 'I didn't see it', but not that they just didn't feel up to it. This is not football. We work hard all week and we want fairness."
Marotta invited further controversy moments later, adding: "It was a serious error. I'm sure it wasn't an act of bad faith but the referee Guida, from Torre Annunziata, was clearly in difficulty and I would question the appointment.
"Imagine if they sent a referee from Turin to take a Napoli game."
Conte, who has already served a four-month ban for his alleged failure to report match-fixing while in charge of Siena, will now miss league games against Chievo and Fiorentina.
The Lega Serie A also handed bans to Juventus defenders Leonardo Bonucci and Giorgio Chiellini for their improper conduct at the end of the game.