Bayern Munich president Franz Beckenbauer likens Gianluigi Buffon to 'a pensioner'
Bayern Munich's honorary club chief Franz Beckenbauer has likened Juventus goalkeeper Gianluigi Buffon to 'a pensioner'.
Last Updated: 03/04/13 4:20pm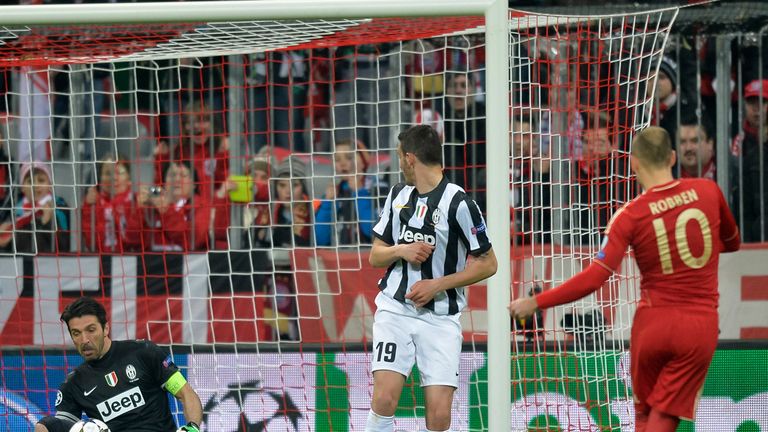 The Austrian midfielder stunned the Allianz Arena, and 35-year-old Buffon, by scoring from 30 yards inside 24 seconds of Tuesday's UEFA Champions League quarter-final meeting in Munich.
Buffon was hopelessly wrongfooted on that occasion and, after he failed to deal with Luis Gustavo's shot in the 63rd minute, Thomas Muller stole in to complete a 2-0 first-leg victory for the Germans.
Buffon is renowned as one of the world's best keepers having guided Juventus to the Serie A title last season and Italy to World Cup glory in 2006, but Beckenbauer feels he is starting to show his age.
He told the Gazzetta dello Sport: "Alaba shot from 120 metres out and made Buffon look like a pensioner. There's no need for him to get upset but he should be catching that shot.
"Maybe he didn't think that Alaba would kick it from there."
Former Germany defender Beckenbauer, 67, also praised Bayern manager Jupp Heynckes for devising a gameplan to successfully build an advantage over Juve ahead of next week's trip to Turin.
"We prepared well for the game," he added. "We managed to stop them playing fluid football from the beginning, while nullifying (midfielder Andrea) Pirlo.
"We can be satisfied with the result especially considering the fact we didn't concede. It's never easy to beat an Italian side who play that way.
"We were always in control of the match against the champions of Italy."