Transfer news: Gonzalo Higuain's brother denies agreement in place for Real striker
Gonzalo Higuain's brother and agent insists that no club has an agreement in place to sign the Real Madrid striker.
By Graeme Bailey - Tweet me: @graemebailey
Last Updated: 06/06/13 2:15pm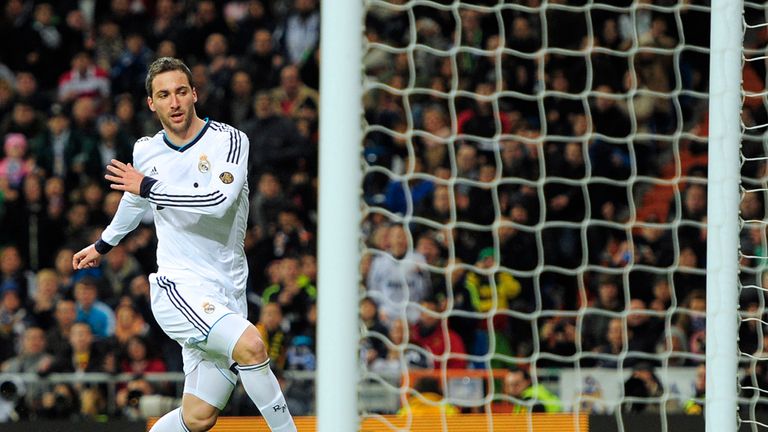 Higuain confirmed after Real's final game of the season that he was looking to leave the Spanish giants.
Juventus and Arsenal are both said to be very keen on the Argentine star, but reports that either have agreed terms have been denied.
"Right now there is no agreement with any club," his brother Nico, who also represents him, told Marca.
"For starters, they would have to talk first with Real Madrid. Nothing has been closed."
Higuain's father, who also helps represent him, has also hit out at Madrid's treatment of his son.
"They [Jose Mourinho and CEO Jose Angel Sanchez] promised to do everything for him to be happy," Higuain snr told AS.
"There was another person between the three of us, and that was Florentino Perez. A year has passed and the renewal has not happened. We have said nothing.
"Ten days ago we told Jose Angel in a meeting. I do not know if he told the president. It takes me by surprise that there is anger because we have already told them.
Protection
"He has been attacked by the sports newspaper industry in Spain and has never had any protection, only from the goals he managed.
"When the club had to come forward they did not and it has helped him to take the decision to leave. We would never do anything against a club who Gonzalo loves immensely, Madrid is in his soul.
"What angered him the most? When on the field he would hear whistles or comments that do not correspond with reality, or non-existent rumours are invented.
"It hurts. He had no protection and not only with this president but with others. Others have had a tough defence.
"Most important now is the desire of the kid and the club must look for what they can get. We are never going to want to leave on bad terms.
"A campaign to discredit him and justify his sale is not the method. Let's wait for them to determine a reasonable price and we will arrange things.
"Madrid will want to sell because there are no concrete rumours and so they must seek the best solution to avoid damaging the image of the club and the player.
"Juventus or Arsenal? We have found out about Juventus from a friend of the President, [FIFA agent Ernesto] Bronzetti. It is he who is managing the deal. I guess he has spoken with them.
"The clubs first have to talk to Madrid and in direct negotiation. Higuain currently has three years left on his contract."