Juventus striker Carlos Tevez denies he will return for pre-season overweight
Juventus striker Carlos Tevez has laughed off claims he will return for pre-season training considerably overweight.
Last Updated: 10/07/13 1:23pm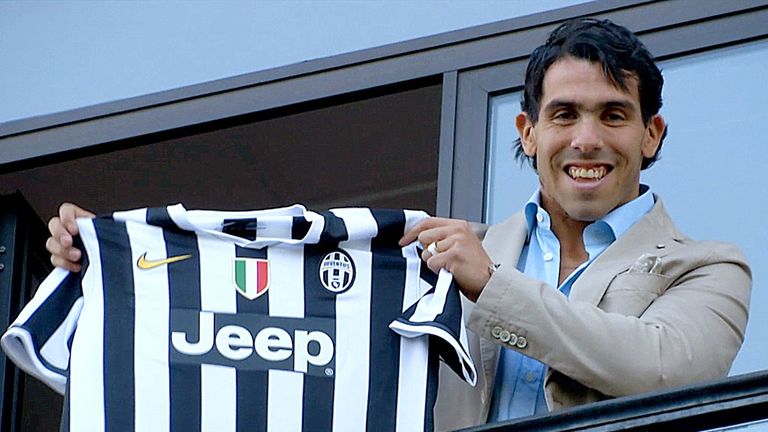 The Argentinian signed for the Italian champions from Manchester City two weeks ago and was allowed to complete a family holiday before joining his new team-mates for pre-season training in Chatillon.
Bianconeri coach Antonio Conte is eager to marry Tevez's high-energy style to his dynamic team of Serie A champions but reports in Italy suggest the Juve boss is unhappy with the 29-year-old's close-season condition.
But, in an interview with Argentinian magazine Clarin, Tevez said: "I'd not even arrived at Juve and there were already people saying I had to lose about six kilograms.
"In reality I haven't even weighed myself and it so makes me laugh to hear these kind of things."
Tevez also ruled out a return to the Argentina set-up.
After scoring 13 goals in 62 appearances for La Seleccion, the striker was surprisingly dropped from the squad in 2011 and has not been called up by coach Alejandro Sabella since, for reasons he is keeping to himself.
"I don't miss the national team," Tevez added.
"That door is closed to me and now I follow them as a fan. Argentina are doing well without me and that's all that matters.
"I know I won't play in the World Cup because Sabella has never called me up. Everybody knows I love La Seleccion, but the door is closed.
"I know why, but it's not for me to say."
The root cause of his omission was not, however, a bust-up with Barcelona forward Lionel Messi, according to Tevez.
He added: "I haven't spoken with him for a long time but it is not true that we had a fight.
"The problem there was that we were always compared to each other and that's not good for the team.
"Why not just talk about Messi, or Tevez? We can play very well together."