English clubs' earnings from Champions League fall behind European rivals
English clubs' earnings from the Champions League last season were dwarfed by those in Italy, Spain and Germany.
Last Updated: 23/07/13 6:55pm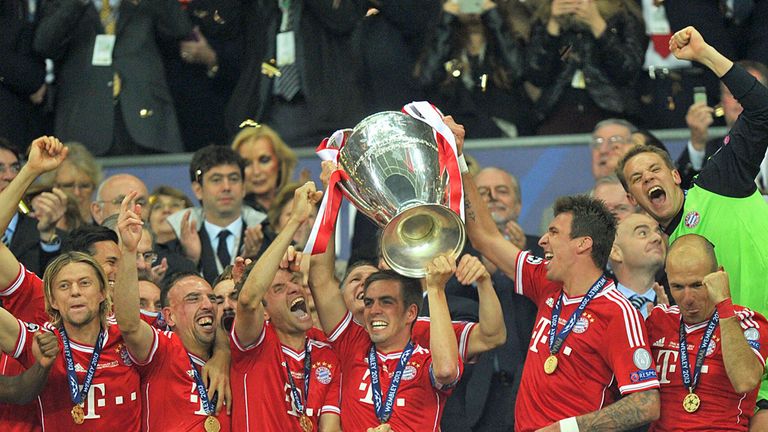 The four Premier League representatives - Manchester United, Arsenal, Chelsea and Manchester City - earned between 35.5million euros (£30.5m) and 28.7m euros (£24.7m) each, almost half the income of top-earning club Juventus who received a record 65m euros (£55.9m) in TV money and bonuses from UEFA.
For the last six years, the English clubs have been the biggest earners from the competition but a combination of factors has led to the quartet slipping back in the Champions League earnings list last season.
The first factor was the relatively poor performance by English teams, with none in the quarter-finals and Chelsea and Manchester City failing even to make it out of the group phase.
Secondly, UEFA's latest TV deal with ITV and BSkyB saw no rise in its value, meaning no extra income for the English clubs. By contrast, in Italy the Champions League TV deal increased by around 35% and in Spain by around 20%.
Finally, the fact that only two Italian clubs qualified for the group phase meant there were fewer clubs to share their market share of TV money, while the German clubs' income was boosted by Bayern Munich and Borussia Dortmund both getting to the final - Bayern earned 55m euros (£47.3m) and Dortmund 54m euros (£46.4m).
Chelsea earned 60m euros (£51.6m) when they won the Champions League in 2012, but their income from the most recent competition was almost exactly half that figure, 30.5m euros (£26.2m).
Manchester United's 2013 earnings were exactly the same as 2012 - 35.5m euros (£30.5m); Arsenal's were 31.5m euros (£27.1m) compared to 28m euros (£24.1m); Manchester City earned 28.7m euros (£24.7m) compared to 26.5m euros (£22.8m).
By contrast, the other major earners in Europe were Real Madrid with 48.4m euros (£41.6m) , Barcelona 45.6m euros (£39.2m) , AC Milan 51.4m euros (£44.2m), and French side PSG 44.6m euros (£38.3m).
Celtic's reward for their run to the knock-out stage was income of 23.7m euros (£20.4m) despite a drop in the value of the Scottish TV deal of around 13% - in 2011 Rangers earned 18.5m euros (£15.9m) but did not make it into the knock-out round.