International: Italy goalkeeper Gianluigi Buffon happy with momentum of side
Seven more months of struggling can only make Italy's "competitive beasts" stronger, says Gianluigi Buffon.
Last Updated: 18/11/13 1:55pm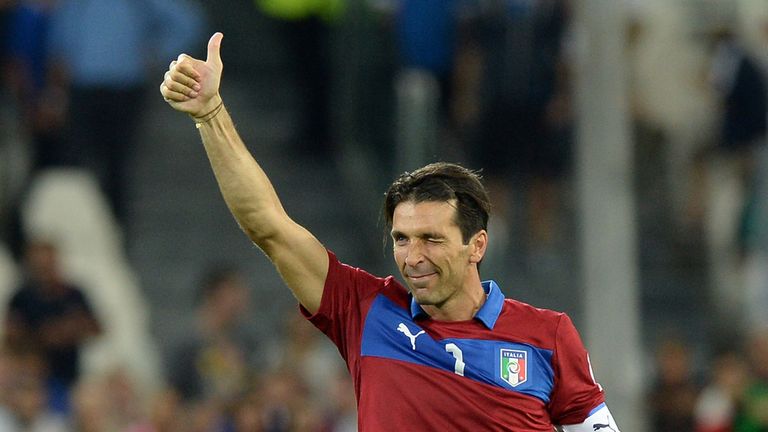 The Azzurri qualified for Brazil with two group games to spare for the first time in their history but the after-effects of 18 energetic months - which featured a European Championships final appearance and an impressive Confederations Cup campaign - have been telling in their subsequent performances.
Dead-rubber draws against Denmark and Armenia were disappointing despite being harmless, but Friday night's 1-1 friendly draw against Germany at San Siro raised serious questions about Italy's ability to sustain winning momentum against superior opposition.
A final warm-up game of the year against African champions Nigeria now beckons, with London's Craven Cottage the venue, and veteran keeper Buffon knows Italy still have much to prove.
He told La Repubblica: "There are certainly better teams than us, but we're in a good place.
"And, unlike some of the others, we have the benefit of knowing what it feels like to suffer. We're at our best in difficult situations.
"Coach (Cesare) Prandelli is right when he says the national team should not expect the moon on a stick, we are just not the strongest team.
"We will go to the World Cup in the same frame of mind with which we approached the Euros and the Confederations Cup.
"Good performances tend to lead to good results and we are competitive beasts."
One nation Buffon would name among the favourites to lift the World Cup trophy in South America is Germany, who were unlucky not to clinch the win in Milan, and he readily compared them to the holders.
"They reminded me of Spain," the Juventus keeper added. "Lots of youngsters, blended with experience. Their dribbling and confidence on the field.
"They made us suffer, let's face it.
"It will be really tough if we have to face them at the World Cup.
"Our own performance deserved praise, though, and we sent out a signal. Sometimes just managing not to lose is a prize in itself."
Buffon's Juve team-mate Andrea Barzagli will not feature after the centre-back hurt his thigh during the Germany game.
Italy had a day's head start on opponents Nigeria in the transfer to Fulham's ground, as Stephen Keshi's men were still occupied with booking their place in Brazil on Saturday afternoon.
A play-off victory over Ethiopia did ensure the Super Eagles of a fifth World Cup outing, though, and further elevated Keshi in the esteem of Nigeria fans following February's African Nations Cup triumph.
Keshi told cafonline.com: "It wasn't easy trying to qualify for the Nations Cup and the World Cup at the same time; it wasn't easy.
"It was a very big battle and that's why I thanked the players because a lot of sacrifice went into this."
Defender Godfrey Oboabona is an injury doubt after leaving Nigeria's 2-0 win over Ethiopia on a stretcher on Saturday.