Juventus striker Carlos Tevez says Serie A is the toughest league he has played in
Juventus striker Carlos Tevez believes that Serie A is the toughest league he has ever played in.
By Nadia Carminati and Simone Bargellini
Last Updated: 17/01/14 6:01pm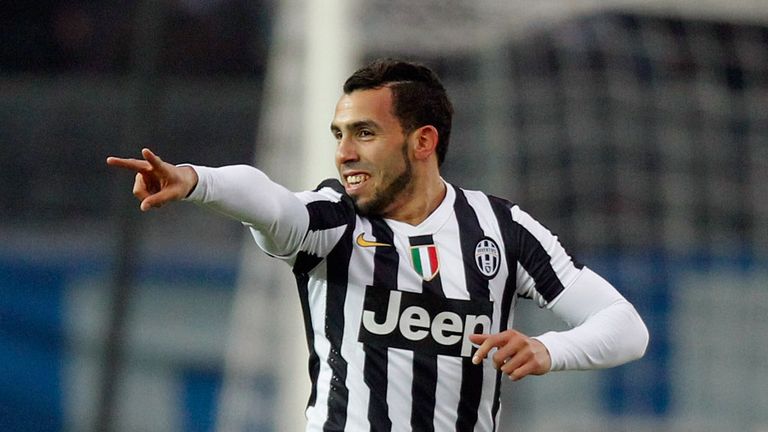 The 29-year-old joined the Italian champions last summer following a seven-year spell in England where he represented West Ham, Manchester United and Manchester City.
Tevez has three Premier League medals to his name, but he thinks that the Italian top flight is the most testing level he has played at so far.
"The Serie A is still the hardest league in the world," he told Gazzetta dello Sport.
"It is the football university, the tactics here are at the highest level and you suffer in every game. Italy is completing me.
"If you score here, you can do it anywhere. I want to win both the Serie A and the Europa League.
"I won championships in Argentina, Brazil and England, Italy would be my fourth country and the Europa League is the only international competition that I'm missing."
Speaking of the standard of Serie A, Tevez singled out Napoli striker Jose Callejon for praise, as well as his current manager Antonio Conte.
"I was impressed by the growth of (Jose) Callejon," he said. "Antonio Conte is important - unique - I have never seen a coach like him.
"He's a bit 'loco' too. He is the true strength of Juve, he doesn't release for a moment, even when you come in the locker room he asks you to push a thousand miles an hour."
Tevez also praised Argentina team-mate Lionel Messi, saying: "He is the strongest Argentine footballer of all time, along with Maradona of course."
The 29-year-old started his career at Argentine side Boca Juniors and Tevez admits that he would like to go back there at some point in his career.
"They are my life, the team I've always loved," he said.
"I surely will (return), but for the moment, my mind is here at Juve. I feel really good in Turin."