Serie A: Juventus manager Antonio Conte staying grounded
Manager Antonio Conte has told his Juventus players to keep calm despite being within one win of retaining the title.
Last Updated: 29/04/14 10:33am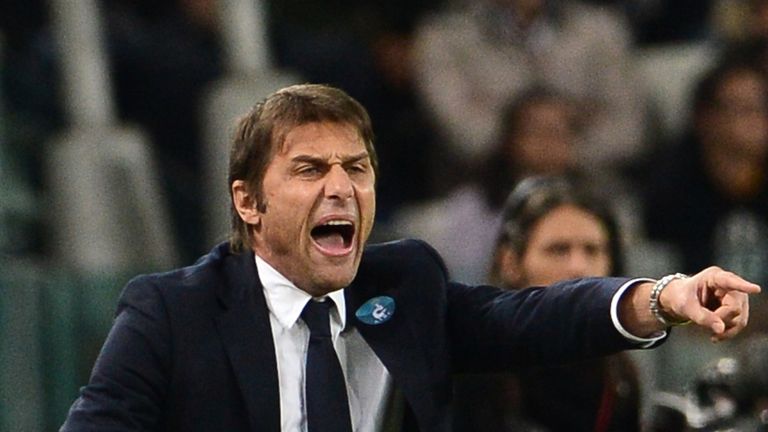 The Turin giants came from behind to beat Sassuolo 3-1 and move eight points clear of Roma at the top of the standings with three games remaining.
Juve will now claim a third successive league title if Roma fail to win at Catania on Sunday or if they come out triumphant at home to Atalanta in their next league game.
However, Conte is refusing to celebrate until they are mathematically assured of the title, telling Sky Italia: "It's not done yet. There is still a possibility for Roma to catch us.
"We must get the job done next week.
"We certainly took a big step forward against Sassuolo, but those behind us have every right to continue believing."
Monday's win was Juve's 30th of the campaign and allowed Conte's side to remain on course for a record-breaking points haul.
Juve are seven points away from becoming the first club to break the 100-points barrier in Italy's top flight.
"It has been an incredible journey so far," said Conte, whose team are also in the Europa League semi-finals. "It has been exciting to have coached the team in the past three years.
"I am thrilled to manage these players, who give their all.
"It's not easy to keep players fired up for three years in a row.
"It was not easy to keep them motivated.
"They deserve much of the credit because as a coach you can bring ideas, but what matters are the players.
"Our (club) president Andrea Agnelli has asked us to achieve this historic treble, something his father and grandfather didn't manage at this club, and we are on course to do so."
Despite their impressive campaign, Conte believes his side are not getting the respect they deserve from the Italian media.
"I hear people say Roma are doing something stratospheric," he said. "But I say we are eight points ahead of Roma and playing in the Europa League semi-final.
"If Roma are stratospheric then I cannot find an adjective to describe Juventus.
"Anything we do becomes almost expected.
"If we win the Europa League, it will be considered a worthless trophy.
"If we lose, then people will say Juve are still not ready for Europe.
"When we achieve something, people act as if it's normal."
Juve must now focus their attention on Thursday's Europa League semi-final return leg against Benfica in Turin.
The Bianconeri must overturn a 2-1 deficit if they are to be involved in the final on May 14 that will be played in their home stadium.
"I am confident," Conte said. "We are playing at home and the fans will be our 12th man.
"Benfica are strong but we are very motivated.
"This is an exciting time for us and we must get our supporters involved as much as possible."