Serie A: Gianluigi Buffon hails "fantastic" season for Juventus after sealing title glory
Gianluigi Buffon hailed a "fantastic" season for Juventus after they were crowned Italian champions on Sunday night.
Last Updated: 04/05/14 9:54pm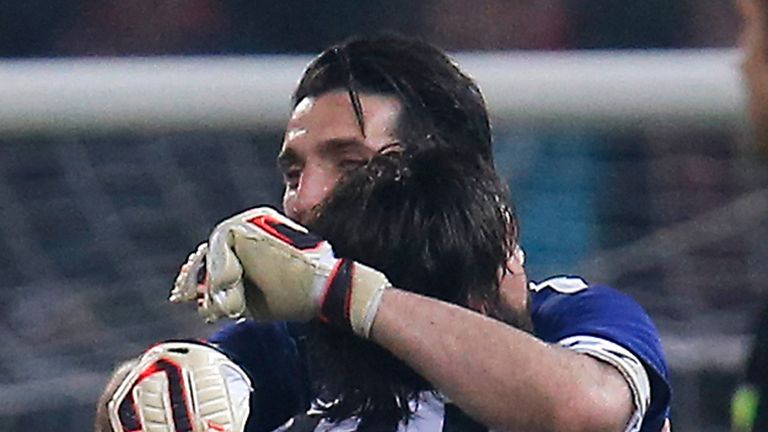 Second-placed Roma crashed to a 4-1 loss at Catania to seal the crown for Juve, who have three games remaining and lead the table by eight points.
Juve enhanced their status as the most dominant team in Italian football history with a third consecutive title taking them to 30 in total.
Thanks to a rock-solid defence, Juve have lost just twice all season and have won all of their games at home to clinch a third straight Scudetto - the first time the Bianconeri have achieved the feat.
Their 30th title pushes them even further clear of AC Milan and Inter, who have each won 18 all-time.
Juventus captain and Italy goalkeeper Buffon was all smiles after clinching his fifth league title.
"It's well deserved for the effort and the performances we have handed throughout the season," Buffon said to Sky Italia.
"It's always beautiful to win but it is very difficult to repeat the achievements of last season because you need more physical and mental energy.
"It's only right that we celebrate because we've had three thrilling campaigns in which Juve has proved to be dominant. This season we have been fantastic.
"We have an important group of players and a coach who is very prepared."
The only regret for Juve will be in Europe, where they suffered an early exit from the Champions League and then defeat in the Europa League semi-finals.
Buffon admits he is glad that he did not leave after Juve were stripped of two league titles in the calciopoli (match-fixing) scandal that rocked Italian football in 2006.
Juve were also relegated to the Serie B as part of the punishment that left the club in disgrace.
"The Scudetto we clinched two years ago gave us a lot of joy as it was unexpected and was the first after having suffered in Serie B," Buffon said.
While Juve cannot expect a warm reception from Roma fans next weekend when they visit the Stadio Olimpico, Buffon has only praise for the club.
"All the football movement should thank them," he said. "At times they have been impressive and their strength made us think that we might not win it.
"A lot of credit must go to them."
Roma went into their game at Catania riding a nine-match winning streak.
"We got everything wrong," Roma coach Rudi Garcia said after the loss to Catania. "We didn't have the right motivation to do well.
"I expect a response from my players next weekend against Juve. Our season remains an extraordinary one.
"We are obviously disappointed but next Sunday we want to win to thank our fans."
Antonio Conte, meanwhile, has been at the helm of the three-title winning sides.
The 44-year-old has been the driving force of a Juve team that can become the first side in Italy to break the 100-point mark - they have 93 with three matches left.
"Conte has given us so much satisfaction since his first season in charge," Juve general director Giuseppe Marotta said.
"He was a great player for Juve and he has been able to transmit his ambition to his players as well as the right motivations."