Serie A: Midfielder Paul Pogba hints he will stay at Juventus
Juventus midfielder Paul Pogba has given a strong indication that he will remain with the Italian champions next season.
Last Updated: 21/05/14 3:02pm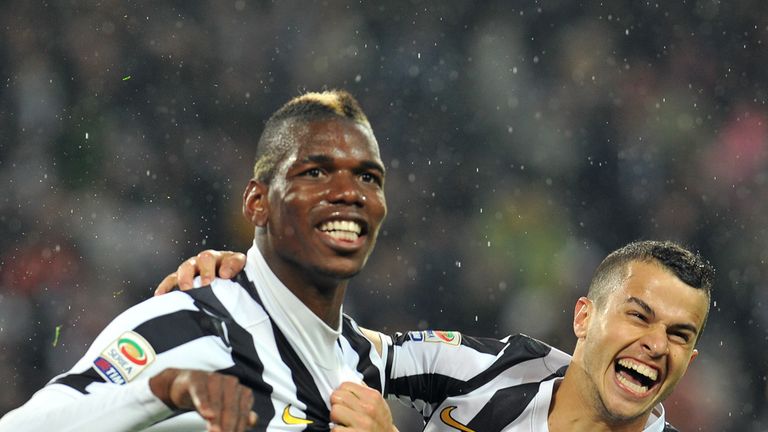 The highly-rated former Manchester United man has been linked with a return to the Barclays Premier League this summer after another solid campaign with Juve.
"I hear reports placing Pogba here and Pogba there," Pogba said in an interview with L'Equipe. "I haven't spoken to Juve regarding what I hear and there's nothing.
"Recently the press spoke about me getting a telephone call from (Real Madrid assistant coach) Zidane to join Real.
"I have not received a recent call nor have we exchanged numbers. My aim? To win another Scudetto, why not?"
The France international is set to be offered a contract extension after the World Cup in Brazil.
Pogba, who joined Juve on a free transfer from United in 2012, is under contract with the Turin giants until June 2016.
"When I was young and I was at Manchester United, I played a game against Juventus and I was given a flag and key chain from that club," Pogba said. "I held on to those objects and had them with me when I signed my contract here.
"But if you look now, I have nothing with me. My only focus is on the pitch as this is what interests me.
"My priority this season was to win the Scudetto and to play at the World Cup, the rest doesn't worry me."
The 21-year-old is delighted with his season at Juve, which saw him score seven goals in 36 league appearances to help his team win its third straight scudetto, Pogba's second.
"The first league title was special, but this one will remain in my memory," Pogba said. "It has been much harder, longer and has required a lot of sacrifices.
"I went through a difficult time, I started to feel fatigued and I wasn't at my best.
"But I know that great football players have gone through that as well and it's part of our job.
"You go through happy and sad moments. You just have to learn to deal with it and start again.
"We had the disappointment of the Champions League elimination (in the group stages) and then the exit from the semi-finals of the Europa League (at the hands of Benfica), with the final being played at our own stadium.
"But football is full of surprises and, despite those setbacks, we achieved a record of 102 points in Serie A this season.
"I am personally very satisfied, we must be proud of what we have achieved this season.
"To have played every three days has allowed me to grow in experience.
"This not only requires sacrifices, but also to assume responsibility. You can't just do what you want, you have to train, play and rest every time. You have to eat well, rest and recover quickly.
"You learn and improve so much professionally."
Pogba is expected to start for France in the World Cup.
"I feel ready and I want to give my best," Pogba said. "I hope to be in good form for the national team.
"Since I was a boy I wanted to play in the World Cup. For me this is a dream come true."