Armero - We need strong start
Pablo Armero says Udinese have learned from their encounters with Arsenal that they must start on the front foot against Celtic.
By Francisco Acedo
Last Updated: 29/09/11 11:58am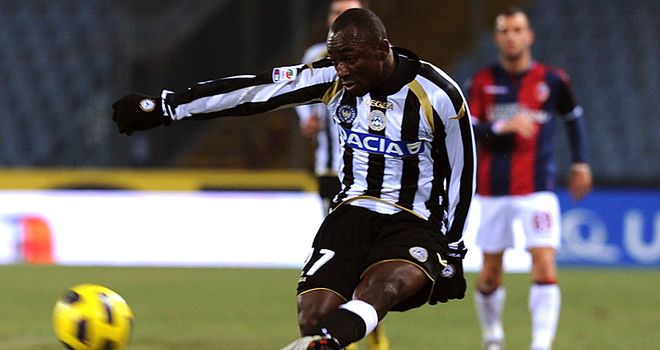 Pablo Armero says Udinese have learned from their encounters with Arsenal that they must start on the front foot when they travel to Celtic in the Europa League on Thursday night.
The Serie A high-flyers, currently second in the Italian top flight, travel to Parkhead buoyed by their 2-1 victory over Rennes in their Group I opener a fortnight ago.
However, Udinese lost both legs of their UEFA Champions League play-off tie against Arsenal in the summer and Armero says they have learned the importance of a positive start when playing away in Europe.
Nerves
"In Glasgow we need to score and go 1-0 ahead if possible to provoke nerves in the home side," said Armero.
"We have learned this in the previous Champions League round against Arsenal. In London we generated a lot of danger but we were unlucky in front of the net."
Armero admits the win over Rennes has taken some of the pressure off their visit to Scotland but insists they will be playing for nothing less than a victory in Glasgow.
"Our objective is to win," he said. "The event will decide but for now I do not want one point. I want three points in Glasgow.
"To win the first match was very important and now we go to Glasgow with less pressure but with the mission of securing the three points.
"Udinese can win in Glasgow, though it won't be easy. However, I've noticed there is an optimism in the squad as our work has developed over the last few days."
Armero, a defender or winger on the left, believes Udinese can handle Celtic's more physical style of play and insists the Italian side are still a force to be reckoned with despite the sale of star man Alexis Sanchez to Barcelona over the summer.
"The Scottish are physically powerful but that is not a decisive (factor)," he added. "If we control the game I am convinced that we can create goals. That is the key.
"Our squad has a big virtue - any player is able to score goals. That is very important because it demonstrates that the team are not dependent on Alexis."
Danger
Celtic struggled against Atletico Madrid in Spain last time out, suffering a 2-0 defeat, but Armero believes they will prove more of a threat on their own turf in front of the home fans.
"We have watched how Celtic performed in Madrid and it was a team without attack," he said. "I bet this week the situation changes and they generate more danger in their own stadium.
"The atmosphere in the grounds always motivates me. We know about the famous Scottish supporters but we are not preoccupied by it."