Mazzarri - We must attack
Napoli manager Walter Mazzarri believes his side must not change their tactics ahead of their Champions League tie with Chelsea.
Last Updated: 14/03/12 11:00am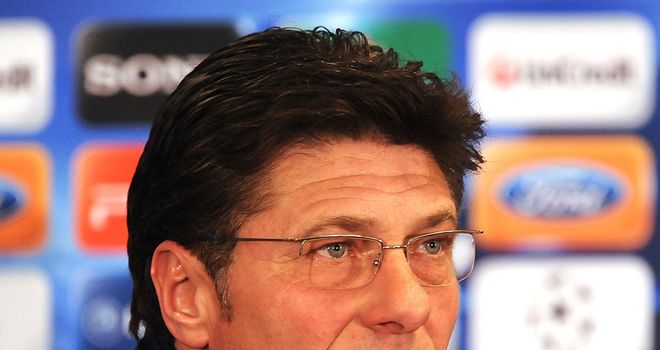 Napoli manager Walter Mazzarri believes his side must not change their tactics if they are to overcome Chelsea on Wednesday for a place in the UEFA Champions League quarter-finals.
The Italian side currently hold a 3-1 advantage following their first-leg victory in Naples, when goals from Ezequiel Lavezzi and Edinson Cavani ensured that they would take a healthy lead to London.
Despite his side's commanding lead, Mazzarri is not taking anything for granted following AC Milan's 3-0 defeat to Arsenal last week.
Tough match
"It's important we don't do anything different to what we usually do," he said.
"If we changed the way we played, that would be a risk. But I don't think my team can underestimate the importance of a game like this."
Mazzarri continued: "When we don't have the ball, we must be like 11 lions, attacking them constantly to get it back. When we have the ball, we must do everything we can to put them under pressure."
Uruguay international Cavani, who has previously been linked with a move to Chelsea, believes his side will be in for a difficult match.
Cavani said: "It'll be a tough match and a very difficult match for us. We saw in the Arsenal against Milan match that a team full of champions can change a tie in a few minutes.
"We need to focus on the game. Nothing else concerns me. I'm focused on tomorrow, and not the long-term. I might stay for five years. I might stay here for three. You never know."
Morale boost
Since their loss at the Stadio San Paolo, Chelsea have enjoyed a winning start under new manager Roberto Di Matteo, something that concerns Mazzarri.
He said: "The fact they've won two out two since Di Matteo was in charge is a big morale boost for their team. That worries me. But I'm confident that, if we play the match we're capable of, we'll have nothing to fear."
The 50 year-old was also pleased about his touchline ban being rescinded for Wednesday, saying: "It was important for me that I was here tomorrow. Hopefully the ban can now be waived completely."
A Napoli win would mean there would be no English teams in the quarter-final draw for the first time in 16 years, but Mazzarri feels this is indicative of how far his side have come.
He said: "It's history that we've managed to emulate what the Napoli of Maradona did in the 1980's, but we're getting used to this."