Valon Behrami warns Napoli of dangers of underestimating Sunday's opponents Pescara
Valon Behrami has warned Napoli of the perils of Sunday's game with Pescara, claiming they must not be underestimated.
Last Updated: 01/12/12 9:43pm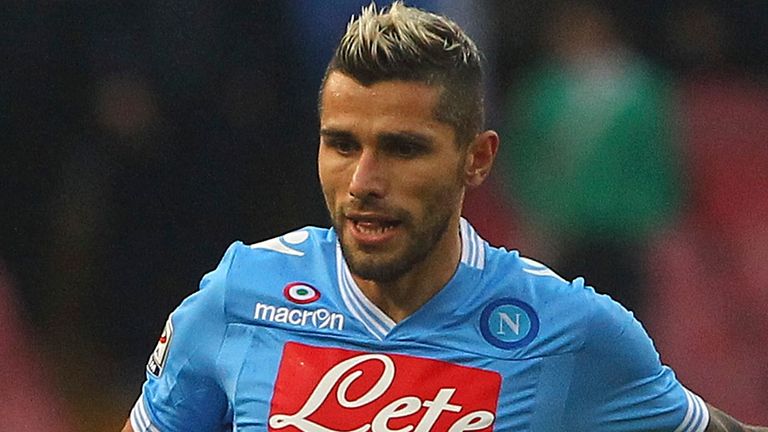 Napoli have reduced the deficit on league leaders Juventus to just two points, but their most difficult task is yet to come, according to the former Lazio and Fiorentina midfielder.
"We struggle against sides who close themselves up and the Pescara game is going to be more of a trap than a walk in the park," he said.
"We are a side who are capable of playing good football, but since we are now a big club, our opponents close up even more when they face us."
Coach Walter Mazzarri has already warned the team not to underestimate Pescara and Behrami says the message has been received.
"He's raised our attention levels since Tuesday to make it clear to us that it won't be as easy a game as it seems on paper," he told Sky Sport 24.
"His aim is always to keep us on our toes and to keep us alert and motivated at all times.
"We feel protected by him and whenever we have had a difficult week, he always defends us and we all feel that."
Should Juve fail to beat Torino in the Turin derby on Saturday night, Napoli can move to the top of the table with victory at the Stadio San Paolo.
However, Behrami believes the race for the title is going to go down to the wire, and it is more open than ever this year.
"It's not just Juve, there are more candidates this season like Fiorentina, who are playing well, Inter and Lazio.
"They are all in good form and are all up there. Putting a streak of results together will make the difference because you can lose anywhere."
New Pescara coach Cristiano Bergodi is out to prove that last remark by winning his first game since taking charge of the Dolphins.
His debut ended in defeat to Roma a week ago, but he has now had longer to get to know the players and is looking to build on a positive second half against the Giallorossi.
"On paper, we are far inferior, but football is unpredictable and there can be many factors which influence a match," he told Radio Crc.
"I just hope that my lads play a good game. We have nothing to lose."