Napoli are perfectly poised to challenge Juventus for Serie A title, claims Mazzarri
Napoli are perfectly poised to challenge Juventus for the Serie A title, according to Azzurri coach Walter Mazzarri.
Last Updated: 28/01/13 11:55am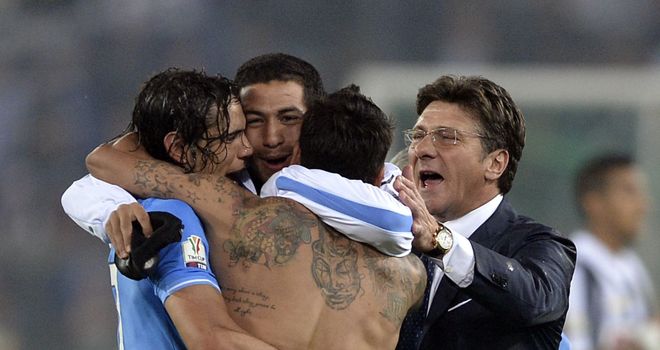 Parma surrendered the only unbeaten home record in the top flight on Sunday as Edinson Cavani salvaged an invaluable 2-1 win for Mazzarri's men.
Returning captain Paolo Cannavaro undid Marek Hamsik's opener with an unfortunate own goal but Cavani's late strike saw Napoli win to narrow Juve's lead to just three points.
The Bianconeri visit the San Paolo on March 1 but Mazzarri stressed the importance of staying on Juve's coat-tails over the four games that come before.
He told La Repubblica: "Now I understand why no one had won here. Compliments to (Roberto) Donadoni's team, it was a difficult game and we did well to bring the result home.
"Can we go all the way? The numbers say yes. We are 15 points better off than we were at this point last season, and we were having a good season then.
"The lads are improving and that gives me a lot of satisfaction."
Cannavaro was able to line up against his old team following a successful appeal against a six-month ban from football, and he was relieved to be on the winning side having allowed Parma back into the game.
"It was a really difficult game and Parma showed just how good they are," he said. "We never closed out the game but we came through it to win due to our strength of character.
"The fans deserve this win and it seemed like we were playing at home.
"The league title? It's not quite open and it's not quite shut, there are a lot of games left. It's just important to be in the mix."
Parma boss Donadoni had not overseen a league defeat at the Tardini since March and he felt aggrieved by the nature of the loss.
He told fcparma.com: "The team played well. The result is a bit too harsh for what I saw out on the pitch.
"After the equaliser we had a great chance with Amauri and then we were a bit stupid in conceding the goal. The team is very unhappy with the result.
"After going one goal down it is difficult to make it up against a team like Napoli that keep the ball a lot and is good on the counter.
"In general it was a good performance. I believe if we continue like this until the end of the season we will be satisfied."