Rafael Benitez officially unveiled as new manager of Serie A side Napoli
Former Chelsea boss Rafael Benitez has been officially unveiled as the new manager of Serie A side Napoli.
By Nadia Carminati
Last Updated: 21/06/13 5:11pm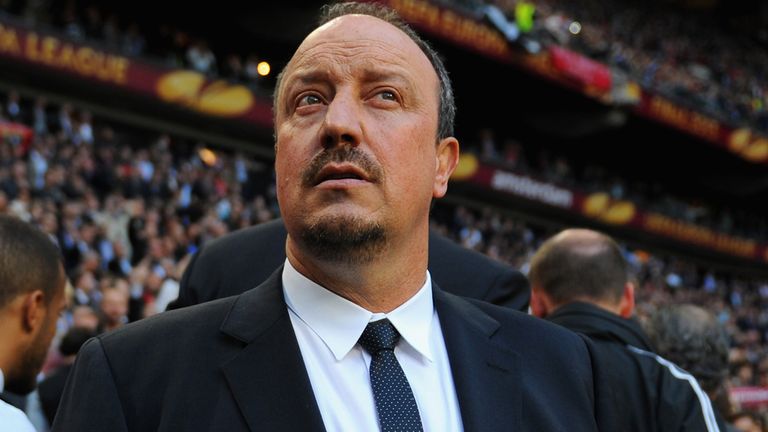 After his stint as interim boss at Chelsea, the 53-year old replaces Walter Mazzarri who has taken charge at Inter Milan upon the expiry of his contract at the Stadio San Paolo.
The Spaniard has previous experience of Serie A management having spent six months at the helm of Inter before being sacked in December 2010.
Benitez has signed a two-year deal with the Azzurri and he says he is delighted to have been entrusted with the role.
"I'm really happy because I've seen the city, I know the supporters, the club and I've spoken with many players who have played here," he said.
"I'm really happy to be here to coach a strong side that wants to grow and that did good things, and that wants to do good things in the future.
"Napoli is a club that wants to improve. From the team, I hope to have the balance to try and win games."
One of Benitez' first tasks will be to keep hold of striker Edinson Cavani who has attracted interest from a number of top European sides.
He said: "I've spoken many times with Cavani - he's a great player and for this reason, the world is talking about him."
Napoli president Aurelio De Laurentiis was also pleased with the coup and he was optimistic about the influence that Benitez can have on the club.
"Benitez is the right man for us because he has international experience and he will be with us in this period of growth.
"With him it starts a new cycle, it's like we restart from the beginning.
"We are not interested in today's results, but what will arrive tomorrow and in the future."