Transfer news: Napoli striker Edinson Cavani queries valuation
Edinson Cavani feels the buy-out clause in his contract is too high and plans to discuss the matter with Napoli.
Last Updated: 25/06/13 4:30pm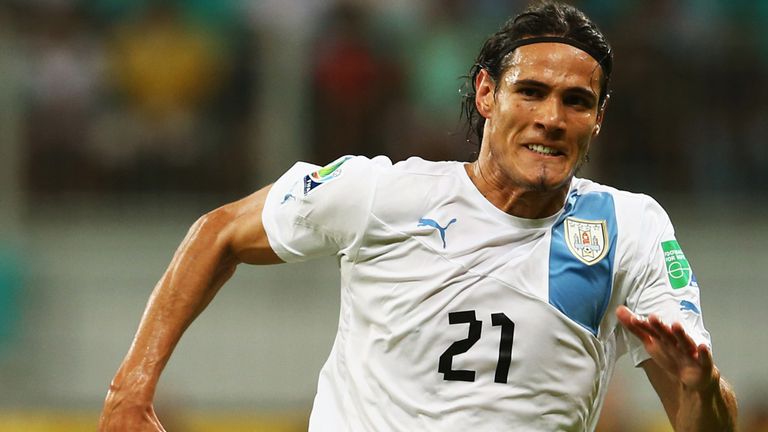 The Uruguay international's valuation has been set at €63million (£54m).
Interested parties such as Real Madrid, Chelsea and Manchester City would have no problem paying such a fee, but would prefer to reach a compromise.
Cavani hopes Napoli will be prepared to enter into negotiations and allow him to take on a new challenge at one of European football's leading lights.
He insists he wants to leave on good terms, but admits he is planning to hold talks with Napoli president Aurelio De Laurentiis in an effort to push things along.
Cavani, who is currently away at the Confederations Cup, told Marca: "I don't think I'm worth €63m. I will talk to De Laurentiis about it. I owe a lot to Napoli and I want to leave through the front door if I move on.
"I am feeling very good at Napoli, but it all depends on the club. We will have to wait and see what options I have. What I want to do is sit down face to face with the club president and decide my future together.
"Real are one of the best clubs in the world, but there is no deal yet. When you're a kid, you dream about playing at a team like Madrid or Barcelona, but right now I'm at Napoli and I'm very proud to be there.
"If I leave one day, I'll be ready to move to a bigger club. We'll see."
Meanwhile, Cavani says that he has asked his parents 'a thousand times' to stop discussing his future.
The 26-year-old had already been linked with a move to City before his mother claimed he had held productive talks with both the Premier League club and Real.
Comments from his father then suggested Cavani had agreed to join Real, with the capital club apparently haggling over the striker's release clause.
But Cavani called time on Tuesday on what he considers harmful interfering from his parents and said: "My father has talked about Real? I want to point out that these words are not coming from me.
"I've asked my parents a thousand times not to say any more. They can only hurt me."