Serie A preview: Juventus defender Giorgio Chiellini wary of Lazio
Lazio have an early opportunity to avenge their Supercoppa defeat to Juventus - and Giorgio Chiellini is suitably wary.
Last Updated: 30/08/13 8:08am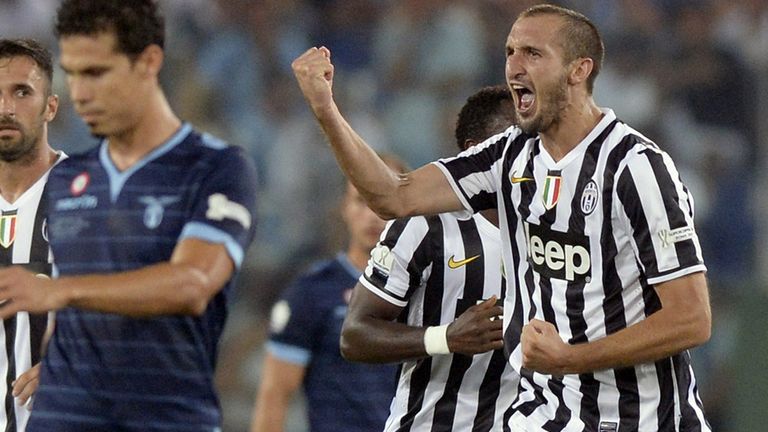 When the reigning champions run out at the Juventus Stadium for their first home game of the new season, they will face an opponent they vanquished only 13 days previously in Rome.
The traditional curtain-raiser saw Juve run riot at the Stadio Olimpico, claiming a 4-0 win and sending a clear warning to any potential title rivals, but Lazio recovered quickly to beat Udinese 2-1 and Chiellini knows the margin of victory in the cup final was most likely a false dawn.
He told juventus.com: "I would have preferred there to have been a bit more time between the two meetings.
"It has only been a few days since the Supercoppa, and I honestly don't think the gap between the two sides is as big as that scoreline might have made it seem.
"We were good at going for the jugular and making the most of our opportunities, but Lazio are a great side and they made that clear in their first game of the season.
"They will be out to show people what they're made of and get revenge against us on Saturday, so it will be a very tough game and we will have to be strong to get the better of them."
Juve's first league win was by a more modest scoreline, as Sampdoria succumbed to a 1-0 defeat, but last year's runners-up Napoli showed some early intent with a 3-0 disposal of Bologna.
Summer signing Jose Callejon scored and fellow new boy Gonzalo Higuain will hope to open his account against Chievo, despite hurting his jaw falling into some rocks off the coast of Capri this week.
Napoli's former boss Walter Mazzarri started life as Inter Milan coach with a win over Genoa and tackles Catania in Sicily this weekend, while Roma host Hellas Verona in the capital.
The Giallorossi have replaced the Tottenham-bound Erik Lamela with Adem Ljajic, whose wish to leave Fiorentina was finally granted.
Verona, meanwhile, produced the shock of week one by beating AC Milan 2-1 thanks to a brace from veteran striker Luca Toni - a result that inspired Rossoneri boss Massimiliano Allegri to suggest he should probably resign.
He later claimed he had been joking but a poor result against Cagliari at San Siro could see the decision taken out of his hands.
Elsewhere, Fiorentina visit Genoa in search of a second straight win while Sassuolo host their first-ever top flight game with Livorno the visitors to the Stadio del Tricolore.
Udinese and Parma are both looking for a first win in the north east as pointless teams Bologna and Sampdoria face off in Emilia-Romagna.
Atalanta host Torino in the weekend's remaining game.